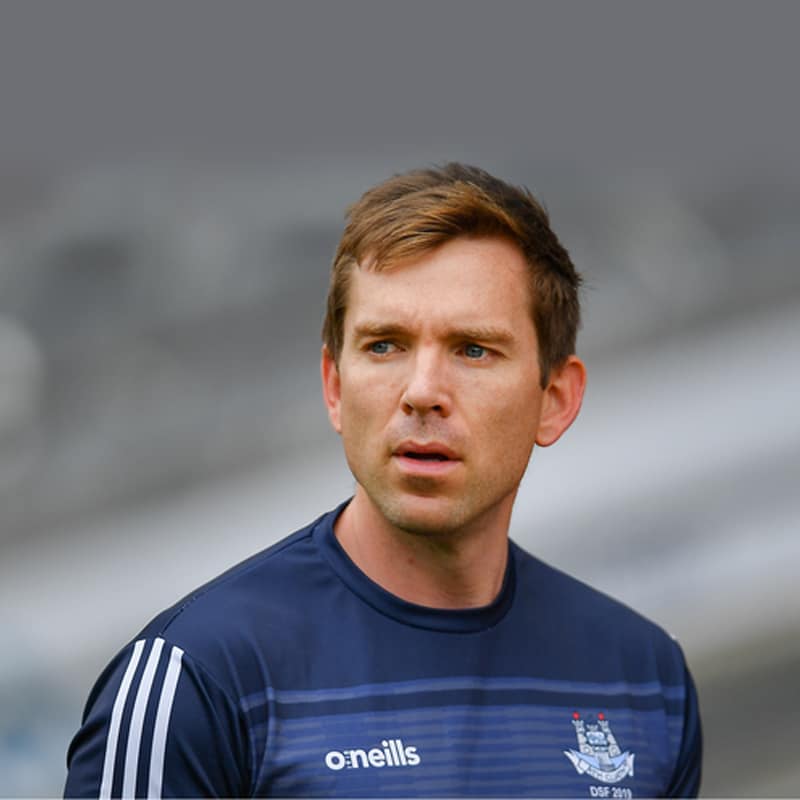 #13
Nutrition, performance and the key ingredients for success
Daniel Davey
---
Daniel Davey practices what he preaches, and in his line of work it's the key ingredient for success in managing the diets of two of the country's leading sports teams: Leinster Rugby and the Dublin senior footballers. He is a senior performance nutritionist and the one ultimately responsible for fueling the performance of some of Ireland's leading athletes.
Daniel knows what it takes to play at the highest level having represented Sligo at Senior inter-county level, as well as winning an All-Ireland title with Ballyboden St.Enda's in 2016.
As a practitioner and an athlete, he appreciates the intricacies of sports nutrition, an ever-evolving science, from both sides of the fence. His company and nutrition platform is called FoodFlicker which is currently being re branded to the new name of DaveyNutrition.
Davey also recently launched a recipe book called Eat Up; Raise Your Game available now in all good book stores.
Subscribe
Find the show on your favourite player
Summary
2:45 Daniel's background and journey
His time spent with his grandparents in Sligo
Being exposed to high quality food from vegetable gardens and milk cows
Starting to cook at a young age
Discovering the connection between body, mind and nutrition
Daniel's initial interest in medicine or veterinary medicine
5:00 Studies and first steps in the nutrition field
His undergraduate studies in Agricultural Sciences followed by a Masters in Nutrition
His focus on exercise and health
Developing an interest in strength and conditioning
The impact of his time in the supplement industry
7:35 Understanding food
How growing up in a farming environment affected his perception of food
The effects of an animal's nutrition on the resulting food's nutritional profile
The benefits of UK's good farming practices
Understanding why food is expensive to produce and the problems that arise when we expect cheap food
11:24 Working with athletes
The satisfaction of seeing athletes make the connection between diet and performance
The danger of obsession with high achievers: "It's not always going to be perfect"
The importance of mindset
16:00 The nutritionist's role in a sports team
The difference between evening consultations and being a full-time member of a team
The key: Understanding that nutrition allows you to take advantage of training
The importance of communication and monitoring: "You're part of a constant feedback loop"
20:00 Amateur players
The advantage of UK and Ireland being at the top of the world for nutritional information
Why Daniel believes that amateur players can perform as well as professional athletes if they prioritize nutrition
The hardest parts of a nutrition routine: meal preparation and the complexities of nutrition science
23:50 A holistic approach
Applying the same diet format to each athlete
Measuring out food according to a hierarchy of needs based on goals and body composition
The importance of getting 7-10 portions of fruit and vegetables per day
Daniel's practical, precise approach
Using monitoring and testing
The impact of genetics
29:35 Training
Nutritional needs on training days vs competition days
When to restrict carbohydrate intake
The critical 36-hour window before a game
The benefits of eating less on game day
Examples of a pre-game day menu
35:40 Individual variations
The differences in each person's gut flora
Each body's different responses to food and what "listening to your body" really means
Examples of different menu variations to achieve the same nutritional targets
The importance of variety for gut health
41:00 Calorie intake
Average calorie requirements for women and men
The rule of thumb used to calculate calorie requirements by weight and exercise level
How to calculate the necessary calorie deficit for weight loss
48:50 The nutritionist and the rest of the team
If players understand the connection between diet and performance, they will act accordingly
The nutritionist's role: communicating this link effectively
When those at the top exert pressure as well
52:30 Educating athletes
How to make information and good nutrition easier to access
Understanding how habits are formed
Recent innovations: Facebook groups, chat apps, etc.
The most important piece: Daniel's relationship to the athlete
55:25 Nutrition ambassadors
Examples of players who push boundaries and show discipline:
Jamie Heaslip
Johnny Sexton
Sean O'Brien
Stephen Cluxton
Paul Mannion
1:00:30 On the road
Developing menus in advance
1:01:25 Athletes' diet when healing from an injury
The evolution of this field
Underestimating energy needs during healing
How to limit the loss of lean mass
Collagen as a protein source for joint and bone injuries
1:04:40 Inflammation
Examples of nutrient-dense, anti-oxidant foods
1:06:16 Advice to young aspiring athletes
"Learn to cook"
How learning to cook changed Sean O'Brien's outlook and performance
Placing food before nutritional information
1:08:15 Athletes transitioning to retirement
The importance of discipline and routine
Hormonal shifts and changes in protein intake requirements after 35
Feeling the loss of conversation and accountability
Suggested video: Muscle Matters Ted-X talk by Brendan Egan
1:11:50 Supplements
When they are required and when they aren't
The importance of Vitamin D + Omega3
1:13:00 Daniel's personal nutritional routine and experience with supplements
The basics: consistency and awareness of his own energy requirements
Testing supplements on himself
The CBD oil hype
1:17:28 Tailoring nutrition
The lack of evidence linking DNA information with nutrition
"Mindful eating" and understanding your own reactions to food
1:19:12 Concerns about supplements
The pressure on young people to look a certain way
1:20:20 Food and mental performance
"Wellness equals better performance": Why diet is important in a corporate environment as well
How to make changes in what food is provided in the workplace
1:24:05 Advice for newcomers
"Start with one thing": Developing one new habit to build on
Cooking as a lost skill
1:29:33 Technology
The usefulness (and lack of accuracy) of MyFitnessPal
The most effective tool: keeping a performance journal
1:30:50 Advice for local teams
Dealing with a lack of resources and nutritionists at local clubs
What Daniel learned from being a water boy
Sharing the task and expense of bringing snacks
Finding a leader/ambassador in the space
1:34:55 Other resources