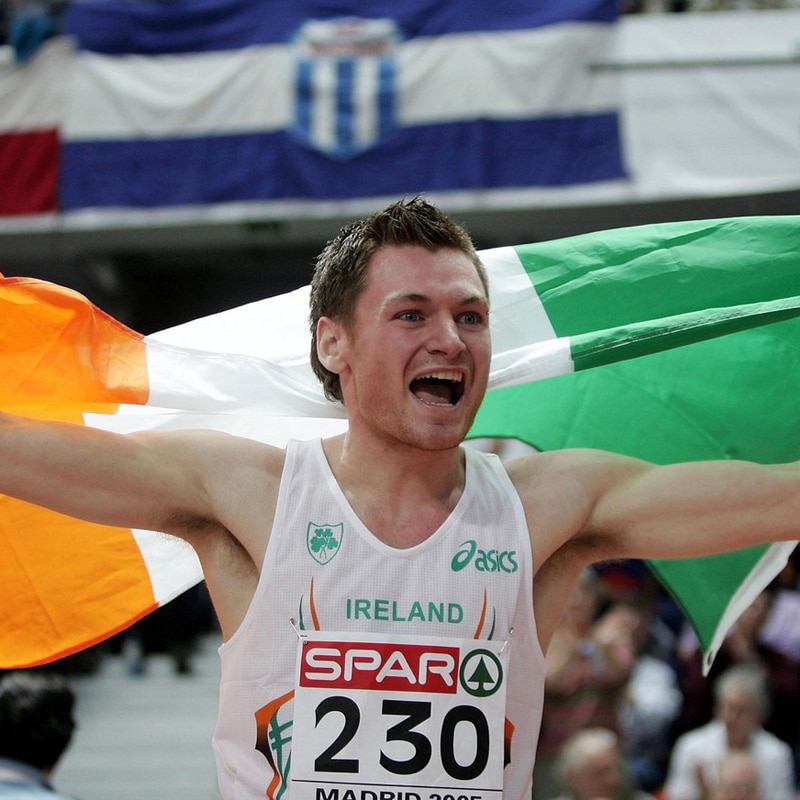 #6
The good days, the bad days and getting back on track
David Gillick
---
David Gillick is one of Ireland's greatest ever 400m runner, having distinguished himself admirably in his chosen field. He finished sixth in the world in 2009, and won the European Indoor Championships in 2005 and 2007. Along the way he beat some of the best athletes in the world and realized a lifetime ambition by competing at the 2008 Olympic Games in Beijing.
In recent times, David has appeared on Master Chef, and has authored 2 best selling cookbooks, Back on Track and David Gillick's Kitchen, and retrained as a sports psychologist.
In this podcast we discuss David's career highs, lows, thoughts on retirement, lessons he's learned as well as thoughts on the future.
**If you are affected by any issues raised in this podcast and need someone to talk to, here are some useful numbers. Find the one that's best for you.
Samaritans: 116 123
Aware: 1800 80 48 48
Pieta House: 1800 247 247
Subscribe
Find the show on your favourite player
Summary
1:00
Introduction
David Gillick's major accomplishments and milestones
1:45
"Back on Track" cookbook
His 4-pillar formula for well-being: mindset, movement, rest and diet
A holistic approach to eating
3:11
Early years
Strong family interest in sports
Going to the local Dundrum Athletic Club regularly as a child
Running faster than the other kids
5:35
First coaches
Jim Kidd and Lucy Moore
Eddie and Liz McDonagh
How coaching provided structure
His coaches' generosity with their time and energy
7:00
Early competitions and motivation
Winning the Gold in hurdles at the All Irelands
Competing at the World Juniors in 2002
The inspiration and motivation of watching Usain Bolt win Gold in Jamaica
Coming home after the World Juniors and making his decision to focus on athletics
9:33
The golden era of Irish sprinting
Before 2005, Ireland was not known as a sprinting nation
David and his fellow Irish sprinters Paul Hession and Derval O'Rourke motivated each other
Following a winning streak, David won the European Indoor Championship in 2005 and 2007
12:5
High-performance culture
Lack of a high-performance culture or funding before 2005
At the 2008 Olympics in Beijing, the boxers seemed different – their high-performance training made them look relaxed and well prepared
David's presentation to the heads of the High Performance unit to successfully obtain funding for his move to Loughborough
14:50
First indoor win
Beating David Canal, the Spanish home favourite at the 2005 European Indoor Championships
Despite being very nervous, he relaxed instantly when he arrived at the track, thanks to a solid routine and good mindset
Training without the use of an indoor track
19:20
Consequences of the 2005 win
Big confidence boost
Higher expectations and comparisons to other successful runners like Jeremy Warner
Being recognized in public
Increased pressure
24:35
The mental side of training
Coaches were only working on the physical
Nerves and poor sleep before his Spanish race in 2006
Comparing himself to other players with better sponsorship
26:25
Becoming a full-time athlete
Moving to the UK to attend Loughborough University, home of world-class athletes
Why he couldn't be a successful athlete in Ireland
Leaving Jim and Lucy to train with Nick Dakin
28:51
Benefits of Loughborough
Loughborough as a centre of excellence – "I just raised the bar on everything"
Looking after his rest, his nutrition and his mindset
Becoming more confident, training with better athletes and progressing every day
Beating the Irish outdoor record in 2007
Successfully defending his European Indoor title
33:12
Visualization
"The race unfolded the way I visualized it"
Visualization and meditation techniques and how they helped David be more relaxed, less nervous
Using music, visual clips, and breaking down the race into moments
36:00
Preparing for the pain
The painful last 50 metres of the race: "You know you're going to be in a world of pain when you cross that line"
The training is so hard that you look forward to the race
How 400 metre sprints are similar to boxing matches
38:30
A disappointing Olympic year
Qualifying for the 2008 Olympics after setting the Irish record in 2007
The pressure of the Olympics: over-analyzing, overworking, being unable to relax
Always wanting more despite good results and being in great shape
Getting sick and not telling anyone
Running his slowest time of the year in Beijing and feeling like he let everyone down
42:50
How to start enjoying the game again
Creating a vision board
Looking back at past races
Getting help from all areas and making small changes in his food, sleep, and training habits
Focusing on daily routines
46:50
Results of his new routines
His Running his personal best in 2009
Ranking 6th in the world in Berlin
Getting consistent results
49:20
Moving to Florida
In 2010, David was disqualified from the World Indoor final
A change was needed: his knee-jerk decision to move to the US
Not dealing with past disappointments or setbacks
Listening to others instead of his own gut feelings
51:50
Training in America
Training with high-profile, superstar athletes
Struggling with a new environment, cultural differences, and changes in the intensity and schedule of training
After an injury in 2011, feeling isolated and far from home and family
54:45
Performance drugs
Athletes banned for steroid use: Tyson Gay, Steve Mullings, Kelly-Ann Baptiste
David's shock and disappointment: "I don't believe it"
Questioning the training, the sport, and his worth as a sprinter: "Maybe I was better than these guys"
His decision to leave the group
58:40
Training in Ireland vs abroad
Why it is now possible to achieve one's goals in Ireland
Ireland's improved facilities and more professional services
The Abbotstown facility
How Ireland is still behind in its culture
1:01:00
The beginning of the end
Moving back to Loughborough, then to the Australian Institute of Sport
After another injury, the Rio Olympics moved out of reach
The loss of funding, sponsors, and the clear end of his career
Realizing that at 30, he had achieved the goals he set out for himself
1:03:20
Post-retirement transition
"I didn't have an exit plan"
David's struggle with depression
His lack of a routine, purpose and goal
Feeling emptiness and a loss of identity
Being seen as a "tough" athlete and not willing to show weakness
Fixating on status, success and money
1:10:00
Depression
Other athletes' struggles with depression
Getting help from Richie Sadlier
Starting counselling
Going public with his depression
1:12:05
Going back to running
"I got the bug back"
Not caring about times or being judged
1:13:32
Psychology in athletics
The importance of having a sports psychologist as part of your team, along with your coach and nutritionist
1:15:10
Regaining balance
Keeping a balance between mindset, movement, relaxation and diet
Small changes can reap large benefits
Putting a value on rest and recovery
Making small, sustainable, practical steps that can become part of your daily routine
1:17:15
Growth mindset
Carol Dweck's research on growth mindset
The importance of asking questions, seeking advice, and believing that one can always learn and get better
1:19:12
The "inner chimp"
Lessons learned from sports psychiatrist Steve Peters
David's negative self-talk, or "inner chimp", Chopper Read
Learning to silence your inner critic
1:21:30
The power of habit
The importance of routine
Fitting things for yourself into your calendar
1:23:25
Relaxation and mindfulness
Different ways to "switch off" and be present
Phil Knight's portrayal of burnout in "Shoedog"
Music as meditation
Breathing as a tool against anxiety or stress
1:26:45
The future of Irish athletics
Up-and-comers: Thomas Barr, Leon Reid, Jason Smith, Phil Healy, Sarah Healy, Stephen Scullion
The importance of supporting and developing young talent towards the next level
1:29:38
David's present and future involvement in athletics
Mentoring
Member of the High Performance committee and the Olympics Federation
Getting involved in coaching (if time permits)
1:30:35
Advice to young athletes
Confidence: "Don't be afraid to dream big"
Join a group of people you trust who will help you become a great athlete
1:30:59
Next projects
Corporate work
Showcasing his own journey
Helping others realize their potential