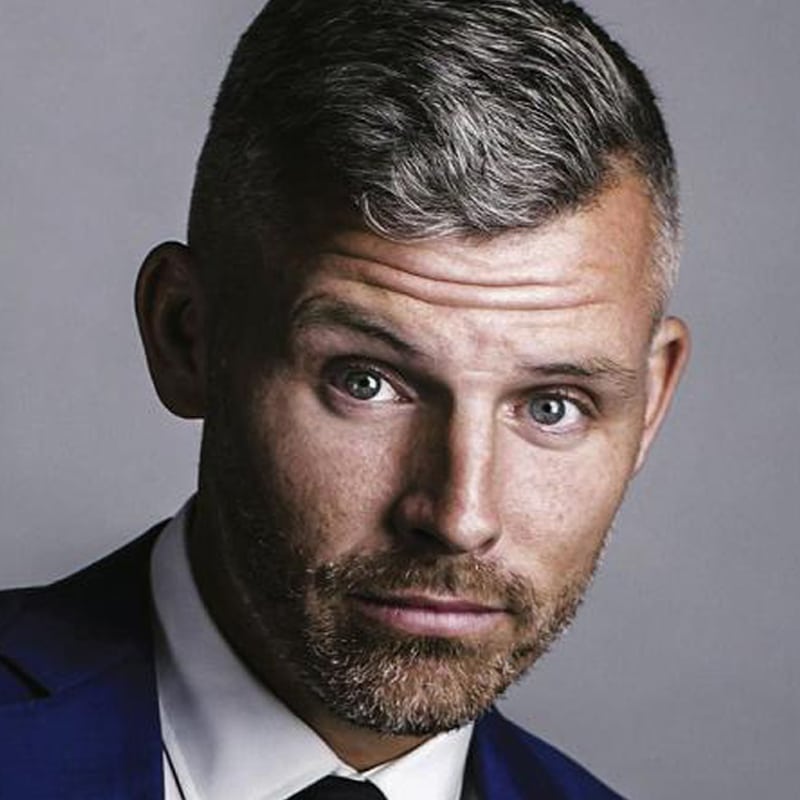 #71
Des Bishop on the Art of Comedic Performance
Des Bishop
---
A native New Yorker, Des Bishop moved from Queens to Ireland in his mid-teens in 1990. He first came to prominence with his TV series 'The Des Bishop Work Experience' (2004), where he lived on minimum wage in a series of different jobs in Ireland. Mixing this documentary footage with stand-up, the series became one of the most talked-about of the year, and propelled Des into national stardom. He followed with further TV successes 'Joy in the Hood', 'In the Name of the Fada', and 'Breaking China'.
His standup career has similarly thrived. Following on from a critically revered special and memoir about his late father in 2011, Des's latest show 'Mia Mamma' deals with the loss of his mother in 2019. The show sees Des masterfully and hilariously explore the complexity of life and the lack of easy finishes.
Subscribe
Find the show on your favourite player
Summary
02:51 Upbringing in America and moving to Ireland
Born in London in November 1975
Raised in Queens, New York
Des was expelled from school because he failed two subjects, then six weeks later went to boarding school in Wexford, Ireland
07:58 Des's first experience of stand-up
He was a part of the drama society at college
He took part in joke performances then was recommended to be the MC for open mic nights
His first stand-up was material came from imitating a Cork accent as an American
12:35 Having 'early-validation' people
Barry Murphy was very generous with his time and helped set up gigs for Des in Dublin
14:18 Moving from a past-time to a full-time career in stand-up
It happened very fast after Irish comedy gained a lot of attention when Father Ted was in season two and three
Carroll's Cigarettes was sponsoring college comedy nights and the Irish heat of the BBC Comedy Awards, which was only Des's tenth gig and he could sense that he was a 'one-to-watch' – despite being heckled by Brendan O'Connor
Des moved to Dublin in the summer of 1977 for paid gigs, including being the MC for the Rocky Horror Show
"It's not always your degree that matters in your college experience, it's the other things you do and the people you meet"
19:38 The impact of audience interaction on his work material
Heckling doesn't happen as often as people think
Sometimes you lose the audience because of what you say
Des attended a brilliant standup performance by a deaf person, communicating in sign language and being translated to the non-deaf audience
25:16 Des's process from idea to the final material on stage
Des likes to develop his ideas on stage through trial and error
For example, after his mum died, there were some elements of humour he could share with his audience on stage
After testing out some jokes on stage, Des then commits to a theme for a show, which takes a lot of time
Des feels like his standup material doesn't need so much 9-5 discipline, as it can be overkill for his work which relies on ideas
Whenever he gets a new idea, he writes it down or records a voice memo
Des records his own shows as most of his jokes come from the stage
"My brain is most in the zone when I'm on the stage"
33:40 The storytelling approach to telling jokes
Des adlibs a lot on stage and can tell quickly how to pace his story
Des is a natural storyteller so he just plays to his strengths
"Every style has its limitations"
The best joke writers tend to have more mathematical brains
39:20 Building confidence that you can guide an audience and take control of the room
It takes time – at least five years
You are immediately told by your audience when you're not in control
It's less about writing jokes and more about getting up on stage
42:48 What's it like to 'bomb' on stage?
It can feel really bad at the time, but you quickly get over it
Over time, you learn tricks to recover from 'bombing' on stage
Just remember that the audience will never feel as bad you feel
45:26 Societal messages and commentary through comedy
After the 'In The Name of The Father' tour, Des felt very motivated to show people that Irish is being taught terribly at school
Comedy is good at presenting specific scenarios to highlight social and political problems
49:51 Learning Mandarin
Des was brought up in a Chinese neighborhood in Queens
He went to China in 2004 and was really motivated to learn Chinese
52:41 The role of comedy in Des's personal life
There is a time and place for comedy and finding material
It can be used as a defense mechanism, which has been pick up on during his therapy sessions
"Standup is a performance, not real life"
56:09 What is next for Des
Some his ambitions are to deliver standup comedy in Mandarin (and make the Chinese audience laugh), and "give America another go"
It's always tempting to take in the financial opportunities he gets in Ireland, but you need to take risks sometimes, e.g. Dara O'Brien took on the UK stage instead of Ireland – it was a big risk but it paid off
Links Mentioned: