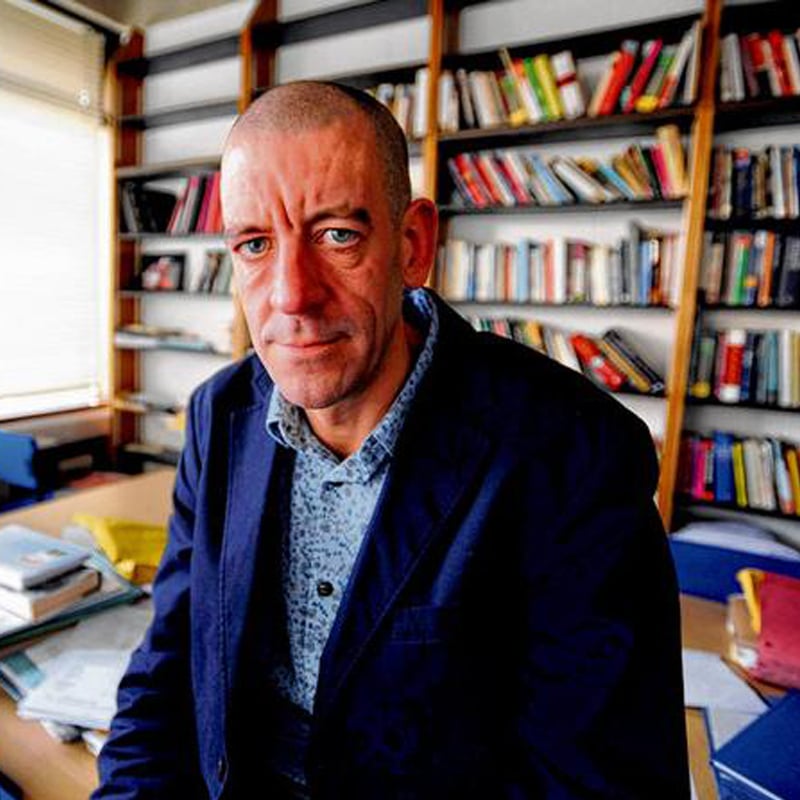 #16
Making sense of Brexit and the extraordinary times we live in
Diarmaid Ferriter
---
As Professor of Modern History in UCD, Diarmaid Ferriter is one of Ireland's best-known historians. Diarmaid is also a regular broadcaster on television and radio and a weekly columnist with the Irish Times. In 2010 he presented a three-part history of twentieth century Ireland, 'The Limits of Liberty', on RTE television. A colossus of Irish academia, Diarmaid has written over twelve books on Irish history. His books include The Transformation of Ireland 1900-2000, in 2007, Ferriter wrote the critically acclaimed biography, Judging Dev, which won in three categories of the 2008 Irish Book Awards. His most recent book, The Border, was published this year.
With Brexit, the backstop and the fate of the border uncertain, we are living in an extraordinary period. In a global context we also facing some of the most contentious political issues of our time with Trump, climate change and the move to right wing politics.
Enjoy this wide ranging conversation with the renowned Irish historian on Brexit, the performance of politicians such as Boris Johnson, the EU and the Irish Government over the past few years, to technology, and the challenges faced with the movement from the written word, Ireland and it's performance on climate and women's issues, the GAA and its role in society today, and much more.
Subscribe
Find the show on your favourite player
Summary
2:45 Lessons learned from history
Examples of leaders not learning from past mistakes
Europe's cyclical tendencies towards extremism
The particular circumstances of the 1930s
The rise of nativism
How Trump echoes the rhetoric of the 19th century
Continuity in how opportunists take advantage of big economic or cultural shifts
The one constant factor: power
6:40 Historians and government
Why historians sometimes stay away from contemporary issues
Historians' roles as government advisors
Upcoming difficult historical commemorations
How to remember and commemorate civil wars
Problems behind historians who become politicians, such as David Thornley or Conor Cruise O'Brien
12:28 Brexit in a historical context
How Brexit has dug up old issues
Brexit as the consequence of an awkward relationship with Europe
Putting the border in its historical context
The consequences of Boris Johnson's ignorance of the importance of the border
What inspired Diarmaid to write "The Border"
The effects of growing up with the border
The south's perception of the north and vice-versa
The 2 minority issues in Ireland caused by the border
The absurd physical manifestations of the border
20:05 Westminster
How it has reasserted its power
Westminster's history and tradition
Its effort to regain its reputation
The opposition's less than optimal position
What Diarmaid learned in the Westminster archives
21:25 Ireland's voting system
The origins of Ireland's unique system of proportional representation
Fianna Fáil's attempt at changing the voting system
Coalition governments
The confidence and supply model
24:30 The Tory party
Old-school or "one-nation" tories
What Diarmaid learned from John Major
The power that can be exercised by unelected advisors such as Dominic Cummings
Criticisms of Dominic's approach
28:30 Advisors
The rise of unelected advisors: "It's gone too far"
How conflict was handled by the 1973-77 Fine Gael and Labour coalition
Why outsourcing solutions is problematic
33:50 "Fake news" and social media
Why history should be a core school subject
The importance of engagement and mediation
The advantages and disadvantages of modern communication and access to information
36:55 Education
The decline in skills like reading, writing and communicating
Why Diarmaid often writes in longhand
39:30 Brexit's current deal
Worrisome loyalist discourse
Ireland's withdrawal agreement
Martin McGuinness and Arlene Foster's joint letter outlining Northern Ireland's unique position
Other unanswered questions: citizenship, devolution, power-sharing, DUP
The Good Friday agreement
Scotland's take on Brexit
45:57 Scottish independence
The option of Celtic confederation
Gordon Brown's influence
Why some believe that Scotland shouldn't follow Ireland's lead
EU sentiment in Scotland
50:15 DUP power and influence
Edward Carson as iconic unionist leader
Questioning the strategy of unionists historically
Unionism as primarily a defensive strategy
The needs of different constituents such as the business community and farmers
The problem with having a religious fundamentalist base
The different wings of the DUP
The DUP during Theresa May's leadership
55:20 Dissidents
Lyra McKee's death
Historic tensions in Derry
How dissidents use political vacuums to their advantage
Clare Dwyer Hogg's film "Hard Border" and its portrayal of how people live with the border today
Fear and caution in the face of potential changes
59:40 Brexit & Winston Churchill's legacy
Britain's surprise when faced with EU solidarity
Boris Johnson's interest in Winston Churchill
Britain's global commitments in Churchill's era
The romanticization of Churchill in "Darkest Hour"
Éamon de Valera's relationship with Churchill
1:07:45 Personalities
How de Valera, Seán Lemass, and Jack Lynch's personalities helped or hindered them
1:10:40 The environment
Ireland's failure to address climate change
Why it should take a much bigger place in school and politics
1:13:18 The Green Party
How local results vary from general election results
The election of Roger Garland, the Green Party's first TD
Predictions for the future and impact of the party
1:15:30 GAA
Why the GAA is important
Croke Park's history
The evolution of girls' and women's presence in sports
1:19:45 Irish women
How women's lives have changed since the '60s
The rise of women's testimonies
Feminism throughout history
1:24:20 Rapid-fire questions
The historical figure Diarmaid would most like to meet
His favourite book
The most important book on Irish history