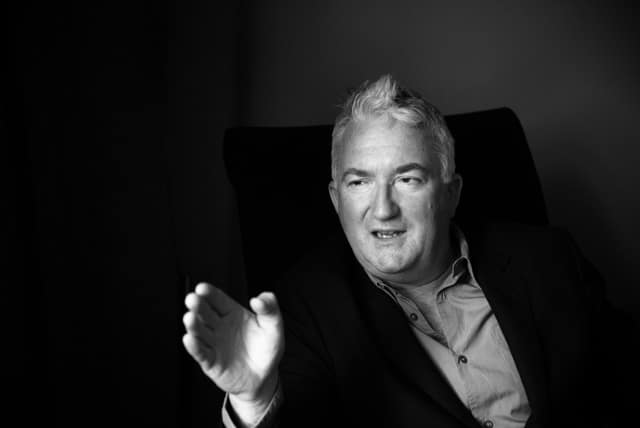 #1
Part I – What the All Blacks can teach us about Business & Life
with James Kerr
---
As part of the Lincoln Recruitment 10 year Anniversary, we were delighted to have James Kerr at our Lincoln Insights Breakfast Seminar. Kerr draws a crowd with over 200 leaders meet and connect in the historic sporting grounds of the Aviva Stadium in Dublin in October. As part of this, James also recorded this podcast which is broken into two parts.
In 2010 James became one of the only ever people to be allowed inside the camp of the New Zealand All Blacks, the most successful sporting team in history. What he learned from this experience he translated into 15 lessons that can be translated into any high performance team be it sport, military or business for success. James Kerr's book as been described as 'seminal' by the Independent newspaper and 'unputdownable' by Bloomberg. The Daily Telegraph newspaper called it the 'modern version of Vince Lombardi's guides to coaching' and says 'for those searching for genuine keys to team culture, it is manna from heaven.' Kerr argues that all winning teams share the same high performance principles; a relentless focus on excellence, a collective commitment to an 'uncommon cause', a high degree of autonomy, trust and individual initiative, clear, candid and compelling communication, an emphasis on individual accountability, integrity and genuine humility, underpinned by a climate in which 'leaders create leaders'.
James Kerr and Legacy quotes 15 lessons that can be applied to any individual or business from the All Blacks.
James is an exceptional storyteller and this podcast covers some of the key topics from his book, as well as insights into James' next project and some insights into the tactics and routines of the man himself.
Subscribe
Find the show on your favourite player
Summary
0:45
Introducing the All Blacks and their successful history
2:00
Why study the All Blacks?
James' loyalty to the team as a New Zealander
How the team served as a case study for him to understand success and leadership
3:00
It's all about the people
Studying a team means learning how people work well together and how their potential can be harnessed
4:00
Thoughts on the media's access to players
The banality of sports press conferences
The negative impact of interviewing players after performances
Staying connected to their fan base through the media
The difference between the public conversation and the internal one
6:00
Analysis of New Zealand's ability to nurture great players and consistently dominate the sport
The role of national identity and early historical wins against colonists
Young New Zealanders learn high level skills at an early age
Team divisions are done by weight instead of age
Self-determination theory: how the All Blacks fulfill the players' needs for mastery, autonomy, and sense of relatedness.
10:30
Rugby in schools
The importance of school sports in New Zealand
The discussion around concussion
Maintaining a good rugby culture and a large talent pool through grassroots teams
Overly protective parents
13:30
The benefits of playing rugby
Unlocking love, passion and potential
Example of a maximum security prison in Buenos Aires where a rugby program significantly reduced in-jail incidents and recidivism
Weighing physical risk against social capital
16:00
Discipline in the All Blacks team
Sustainable success comes with focus and professionalism
Consequences to bad behavior and cutting corners
18:30
How to deal with problematic team members
The importance of letting go of someone with a bad attitude
The "Kevin Pietersen" effect
How great cultures attract and retain great people
22:00
The All Blacks and their role in New Zealand
The All Blacks as an instrument of political power
The possible need to move away from the All Blacks as a symbol of New Zealand
25:15
The importance of civility and humility to success and excellence
27:30
How to start and sustain a good team culture
Nurturing and developing a culture from within
Including team members in building their own culture
30:15
The future of work
The potential impact of remote work on company culture
32:00
Ritual and ceremony
The importance of ritual to a culture and a team
Start and end of day rituals