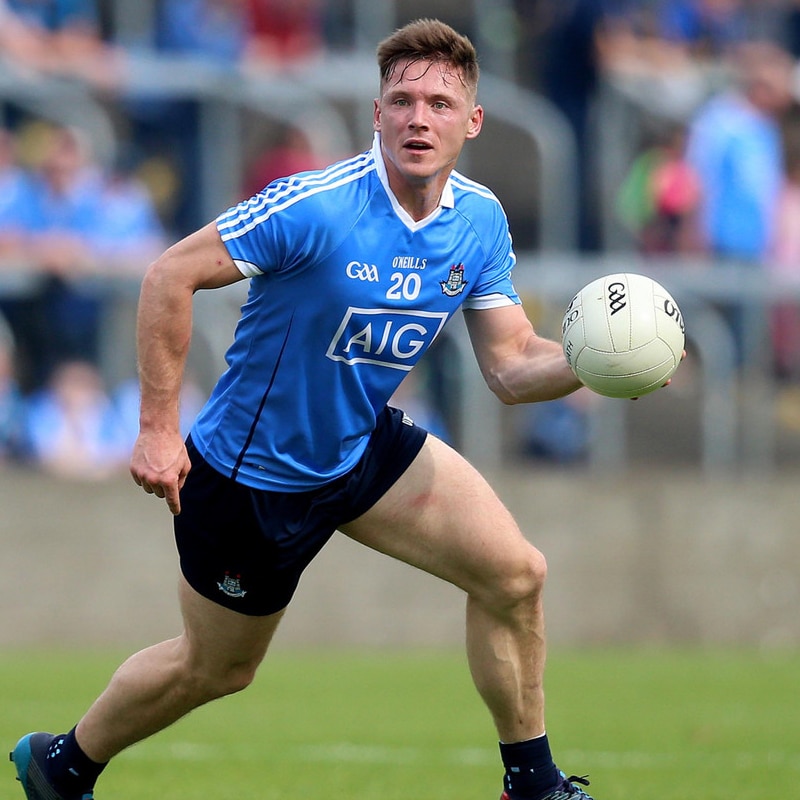 #14
The tactics, routines and influences of the GAA great
Paul Flynn
---
With six All-Ireland's, 10 Leinster titles, five National Leagues, Paul Flynn will be remembered as one of Dublin's all-time greats.
As well as earning four consecutive All-Stars, Paul was a central influence in the Dublin team from his debut in 2008 to his retirement in 2018.
In this period, he epitomised the resurgence of Dublin GAA and re-defined the role of wing forward in a period where elite GAA players brought the game to a new level.
In this podcast we talk through the tactics routines and strategies of an elite GAA player and what it takes, on and off the pitch, to perform at the highest standard.
Subscribe
Find the show on your favourite player
Summary
2:30 Paul Flynn's career highlights
3:15 The GAA championship
The highlights of the final and the replay
The difference between "trying not to lose" vs "trying to win"
4:35 Kerry's performance
Their competition and performance history
Comparing Kerry with Dublin as they were in 2011
« These guys will be household names in the future »
6:30 Dublin's 5 consecutive All-Ireland wins
How this achievement affected different players
8:35 Watching from the sidelines during the finals
Staying focused on his work as CEO of the Gaelic Players Association
Focusing on family
The difficult replay day
10:48 Recovering from a final
The challenge of always being on edge
Wanting to get back to normal life and sacrificing trips and holidays
13:31 Strength and conditioning
15:39 The buildup to All-Ireland's
"It was like the whole world stopped around me"
Experiencing powerful emotions and excitement
Watching your boyhood dreams come to life
17:40 Paul's Dublin debut
His memories of being on the panel in 2007
Why he stood out: "They felt like i was raw, but they could work with me"
His connection with his grandmother and her support of Dublin
20:27 College years
The impact of his years at DCU
How his working-class family affected his perception of college
Feeling out of place with his educated Dublin teammates
Paul's gratitude for manager Pat Gilroy, who provided career and education help to players
Going to college as an older student
Balancing sports and education
23:12 The Sigerson competition
The advantage of mixing different players from different counties
Online game streaming
The drive of seeing other players get nominated for all-star
25:15 Kicking
The impact of coaches on Paul's technique
The humility of going back to basics
His 3-stage kicking practice process
Finding his foot's "sweet spot"
Why it's an advantage to go down to 80%
The importance of being composed
28:44 Manager Pat Gilroy
His investment in the team and its players
His vision of the team's financial situation and commercial structure
30:40 Dublin's first All-Ireland win in 16 years
A career and life highlight
The team's subsequent fame and public appearances
How this win allowed the team to spend time together after the season
33:25 Wing forwards
The new generation and new tactics of wing forwards
Different players' techniques and skill-sets
35:35 Influences
His parents' commitment to the GAA
The importance of minors training with seniors
Why finding good mentors is key
38:34 Mickey Whelan
Meeting Mickey at an impressionable age
Sports science as a science and an art
40:05 Losing to Mayo in the 2012 semifinals
Regime changes
Jim Gavin's ambitious win goals
42:34 2014: a pivotal year
Paul's memories of the Donegal defeat
The effect of the high heat
Dublin's skillful halftime assessments
47:00 Inside the dressing room at halftime
Each person's role
The advantage of the team being allowed to figure things out on their own
50:00 After the Donegal defeat
How the team evolved based on their strengths and weaknesses
Adapting to different teams
Adapting to new sweeper systems
Spreading wide and using the space
54:00 Process
Process goals vs outcome goals
Staying in the "now"
56:10 Rules and team culture
The influence of the All Blacks
Choosing the best parts of different successful teams: "You don't have to reinvent the wheel"
The importance of respect
58:35 Intelligence and sports
The recent shift from teams of working-class players to college educated players
How intelligence prepares you for the other demands of the game
A new practice: taking notes at practice
1:03:00 Jim Gavin's managerial style
"He's an exceptional manager"
His strengths: remaining calm and collected and treating everyone equally
1:05:20 Winning his 4th All-Star in a row
How significant this win was
Potential future winners
Accepting that this achievement will be surpassed
1:07:55 Understanding short kick-outs
Goal 1 : Getting the kick-out as far away from your own goal
Goal 2 : Not losing the kick-out
The potential consequences of losing a kick-out
1:11:10 Prioritizing
The importance of preparation and planning
Defining "smart training"
Working on mindset
1:13:58 Joining Pieta House
Dealing with the suicide of a close friend
1:15:23 Wins and opponents
Dublin's rivalry with Mayo
How the team helped them to stretch their limits
1:18:04 Turnover
Having a culture of giving youth a chance
Prioritizing skill above all else
1:20:10 Transitioning to the business world
The skills that carry over from team sports to business
1:23:15 Retirement
GPA's pilot scheme for transitions to retirement
Potential post-retirement spirals towards mental health issues and substance abuse
The importance of having goals
1:28:33 Other sporting organisations
Learning from other organisations: "The fundamentals remain the same"
The importance of getting preventative measures in place
1:30:33 Paul's plans for the year
The GPA's 3-year strategy
Priorities: balancing life on and off pitch and making sure everyone understands the role of the GPA