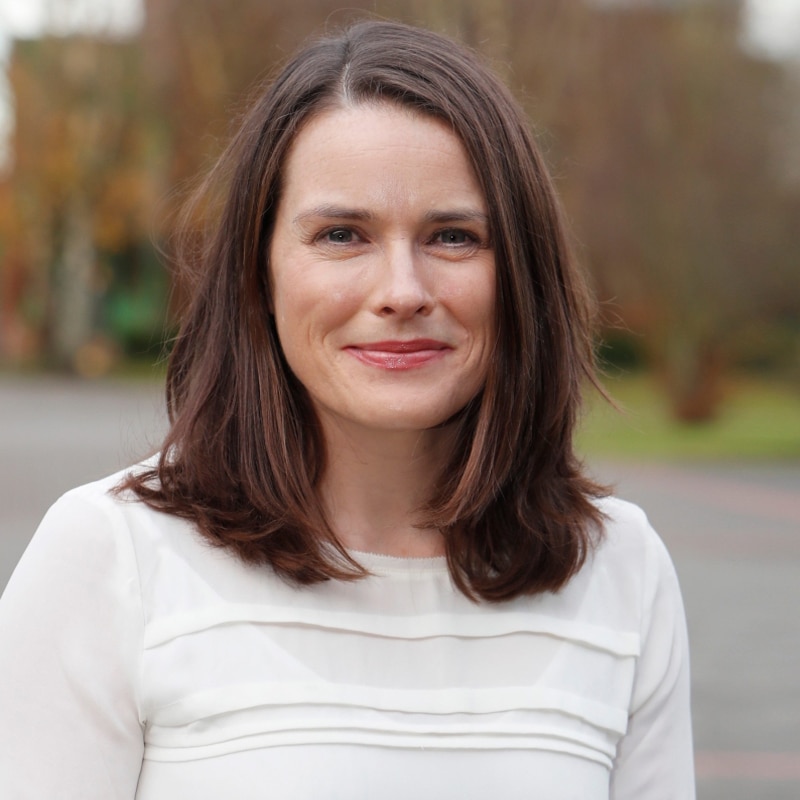 #68
Rethinking the Workplace
Prof Deirdre O'Shea
---
Prof Deirdre O'Shea is Associate Professor of Work and Organisational Psychology at the University of Limerick, a Fellow of the Psychological Society of Ireland and Chartered Work and Organizational Psychologist (I/O Psychologist). Her research focuses on work motivation and occupational health psychology.
Her expertise is in the design and evaluation of psychological resource-based interventions, but her work also covers self-regulation, emotions and emotion regulation, and proactive behaviour, amongst others.
She has published her research in top academic journals and is a regular contributor to national and international media outlets. In 2018, she was featured in the RTE documentary 'Stressed'.
Subscribe
Find the show on your favourite player
Summary
02:23 The role and work of an Organisational Psychologist
It's applying principles of psychology to the workplace
In Europe it's referred to as Organisational, in the UK it's Occupational and the US it's Industrial
It's about trying to make the workplace a better place for employees
04:16 Deidre's focus on the individual level
Deidre still takes into account the wider context that the individual is working in
05:27 The different types of motivation in the workplace
It's about the direction, intensity and the persistence of behaviour
It is more accurate to focus on the type of motivation that we experience, as opposed to to if someone is motivated or not
Self-determination theory suggests that people are motivated to grow and change by three innate and universal psychological needs: competence, connection and autonomy
08:24 Are some people more intrinsically motivated than others?
It's about the person interacting with their environment
We can experience different types of motivation when doing the same task, e.g. feeling pressured or enjoying something intrinsicly
10:42 The problems with personality tests
There is no doubt that we all have different personality traits
We tend to overuse our traits in the workplace environment
Personality tests can only predict general behaviour in the workplace
15:15 Identifying motivational triggers
Self-awareness is important to know what you enjoy doing
We can learn different ways to motivate ourselves
It's important to identify the barrier to our motivation for a task
18:07 Where does the drive for achievement come from?
Goal-setting theory is an employee-engagement tactic that involves setting specific and measurable goals to improve productivity
We have direction if we have a specific goal
20:41 The role of incentives in goal achievement
Incentives aren't particularly effective for work that demands proactivity
People work for different reasons, and that can be for money, making a difference or having a 'calling' for a profession, etc.
24:50 How long can motivation last?
Identify first what the person is striving to achieve
Have a self-regulation strategy that identifies what are you going to do in order to achieve that goal
Set realistic goals so you don't fall into the trap of doing too much too soon and end up quitting
Have strategies for managing potential obstacles
Once you start to enjoy doing your habitual tasks, you are more likely to sustain it for the long term
29:10 Is the self-determination theory more prevalent in the post-covid workplace?
Covid has lead to an awareness that people can work remotely
Working from home makes it harder for people to separate their work from their home lives
32:36 The relationship between goals and performance
Action Regulation Theory (ART) is a psychological theory that looks at how individuals achieve their goals through processes of action and regulation
From considering your external environment, what are you able to realistically achieve?
Once we make a decision with what we want to achieve, we pass the point of no return
Negative emotions towards feeling like you are not on track with your goals is a powerful signal that can actually help you re-focus or focus on a different goal that you need to achieve instead
37:46 How to ensure that your emotions are not sabotaging your motivation
Within positive and negative emotions, there are both active (e.g. excitement or anger) and passive (e.g. contentment or lethargy)
Active emotions are what drive us to take action
Motivation is, at its core, an individual concept, but leaders can design the right environments for individuals to work in
43:02 Is autonomy at work more important than ever?
The Fordist philosophy of production lines took away the opportunity for autonomy
There has always been a need for humans to be autonomous, but in the 21st century we have been able to see even more the opportunities that come with being more autonomous
People have realised that there are other ways of having autonomy, e.g. people don't have "job for life" anymore
46:00 The role of positive reinforcement
Reinforcement theory has merit, but it only motivates the behaviour that is being rewarded
47:04 How leaders can improve their transformational leadership skills
It's very important to build your relationships and trusts individually and collectively
49:29 Hiring for cultural fit
There is a fit for the job (i.e. skills and competence) as well as the overall company culture
In the job interview, ask situational questions to see if the interviewee is aligned with the company's values
54:17 How our lives outside of work impacts our wellbeing at work
An Organisational Psychologist can help teach someone how to cope with a stressful situation at work
Mindfulness is powerful, but if a job is demanding long hours or extra work, then it's not sustainable
58:56 What are the common signs of burnout?
It is something that happens over time through chronic stress
The main characteristics are emotional exhaustion, a cynical attitude and not feeling effective with your job
During Covid, a lot of people had to learn new ways of doing things in their home environment
01:02:50 How being in nature helps people on a psychological level
Nature helps us to feel calmer without taking much energy
01:08:00 Being proactive versus reactive
Proactive behaviour is self-directed
If the task at hand brings a lot of pressure and demands proactive behaviour, it causes a lot of strain on the employee
For organizations, it's important to apply proactive behaviour for more autonomous tasks
01:12:22 Finding purpose in the work that you do
Identify the values that are important to you versus what you spend your time doing
Regardless of what career or job you have, acknowledge that there will always be parts that you enjoy and don't enjoy
Links Mentioned: