Weekend Business Papers
Subscribe to get the digest of the weekend's business papers straight to your inbox.
24-09-2023
The 1% Podcast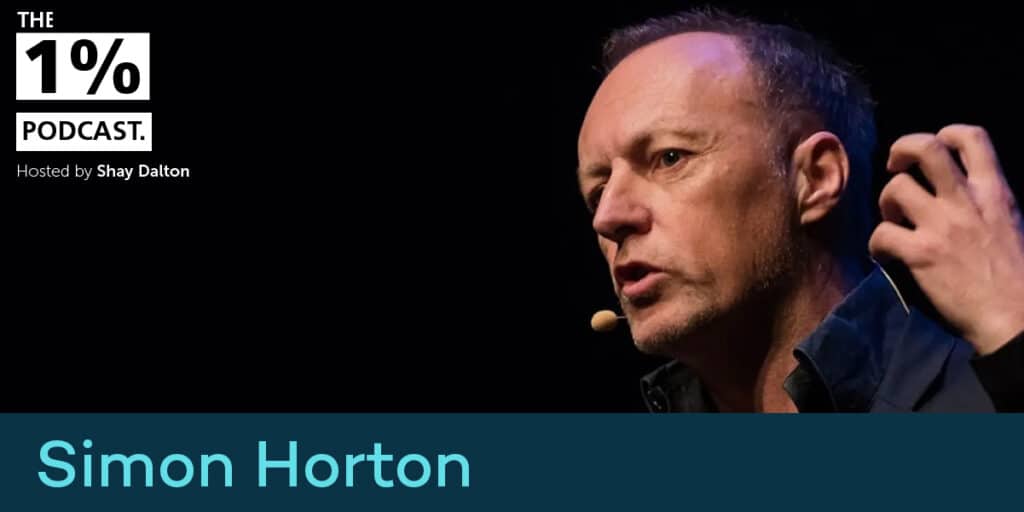 Simon Horton is the founder of Negotiation Mastery, a center of excellence in the world of negotiation. He has taught the subject of negotiation all around the globe, to hostage negotiators, top banks, law firms and many other blue chip global players. He is a Visiting Lecturer at Imperial College and at the Royal College of Art, and has taught at Oxford University, Birkbeck, and the Skolkovo School of Management in Moscow. His long list of famous clients includes Goldman Sachs, Nike, Pepsi and Lloyds amongst many, many others.
His first book, 'The Leader's Guide to Negotiation' was published in April 2016 by The Financial Times and his most recent book, 'Change Their Mind: 6 steps to persuade anyone anytime' won a 'Highly Commended' award at the Business Book Awards 2023.
Business Papers – The Main Talking Points
· The Business Post says there is alarm at EU plans to raid Ireland's corporate tax revenues
· The Sunday Independent claims that TikTok is rolling out an employee attendance tracking app
· The Sunday Times says Ryanair may move from the Dublin to Brussels stock exchange
· The Financial Times says Crispin Odey is facing his first lawsuit over sexual assault allegations
· The Wall Street Journal says Amazon will start putting ads on its Prime video streaming service
"I'm lost for words. These Irish fans are incredible. Honestly, I've never, ever witnessed anything like it, the travelling crowd, it's a joke, completely a joke, and it's only going to get bigger and crazier from here on in."

– Ireland centre Bundee Aki.
Business Post
"McGrath rejects €1.5bn EU demand" is the splash on the cover of this week's Business Post. Daniel Murray reports on alarming new proposals tabled by the EU to use corporate profits as a basis to increase Ireland's contribution to the EU budget. Speaking to the Business Post, Minister for Finance Michael McGrath described the proposal as "very concerning", adding that "the impact on Ireland would be disproportionate". If approved, the proposal could see Ireland's contribution to the EU budget increase by up to €1.5bn.
 
"Businesses in line for energy support in bumper budget" headlines this week's other cover story. Michael Brennan and Daniel Murray report that new energy supports worth hundreds of millions of euros targeting struggling businesses will be unveiled in next month's budget. It's reported that Minister for Enterprise Simon Coveney wants to replace the existing Temporary Business Energy Support Scheme with one-off supports.
 
"Tiktok to take over Twitter's Dublin office for five years" is the tongue-twisting headline over the top story on page three. Donal MacNamee reports that the Chinese video-sharing app is set to sublease most of Twitter's Dublin office at Cumberland House. According to the report, the space, which has lain vacant since Elon Musk's acquisition of Twitter, is big enough to accommodate up to 600 workers.
 
In brief
 
·   Accenture improved its redundancy offer for its second tranche of laid-off workers
·   Financial software firm Fenergo is set to go on an acquisition spree
·   Shackle, an Irish-founded hospitality tech platform, has raised £12m in Series A funding
·   Ryanair has threatened to cut more routes at Dublin Airport due to spiralling passenger charges
· Three-quarters of funding given by Enterprise Ireland in the past six years has gone to men
·   Luxury car sales have increased by 50% this year, according to new figures from Revenue
The Business Post is a digital subscription. We encourage you to support quality journalism and subscribe or buy the physical newspaper. Subscribe here.
The Sunday Independent
According to the top business story in this week's Sunday Independent, staff working at TikTok's Dublin office will be subject to a strict regime monitoring their attendance at the office. "TikTok's Dublin office rolls out return-to-office tracking app" is the headline, with Gabrielle Monaghan reporting that the Chinese firm has rolled out a "custom data-collection app" to monitor employee office attendance. The piece notes that staff who refuse to work from the office at least three days a week could face disciplinary action.
 
The financial crash hinders Ireland's ability to be a European leader in fintech. That's according to financial analysis firm S&P Global, which, according to Sean Pollock's report, said the pace of fintech innovation in Ireland has been "sluggish" due to Irish banks focussing on improving their balance sheets after the financial crash.
 
Turning to the inside of the business pages, Fearghal O'Connor reports that staff at Aer Lingus have been granted another new pay increase and a lump-sum payment. On top of a previously agreed 10.25% increase over three years, staff at the airline will now get a further 3.5% over the next two years and a lump sum payment of at least €750.
 
In brief
 
·   Austrian smartphone maker Emporia plans to increase its presence in Ireland with devices targeting the elderly
·   The Foods of Athenry is looking to continue its expansion in the Middle East after signing a new deal with a Dubai grocery chain
The Sunday Independent is a digital subscription. We encourage you to support quality journalism and subscribe or buy the physical newspaper. Subscribe here.
The Sunday Times
Ryanair might join CRH and Smurfit Kappa in leaving the Dublin stock exchange, according to the top business story in the Sunday Times. "Ryanair boss mulls Dublin market exit as defections mount" is the headline over Brian Carey and John Ihle's scoop. They report that Ryanair boss Michael O'Leary is annoyed at the high level of stamp duty on share trading in Ireland and the Dublin market being too closely aligned to the London Stock Exchange. "There is no reason why we should be in Dublin rather than Brussels," said O'Leary. The article observes that the departure of several prominent firms has elevated concerns regarding the potential decline or destabilization of the Dublin stock exchange.
 
Some property news and Linda Daly reports that nearly 300 student bedrooms could be built on the site of Independent House on Middle Abbey Street in Dublin. That's according to a development plan seen by the paper. Another option mooted for the site is to turn it into a 193-bedroom hotel.
 
Also this week, it's reported that Climote, which specialises in smart heart control systems, is seeking to restructure its debts under the small company administrative rescue process. The process, which is an alternative to examinership, is designed for small companies that are viable but insolvent because of historic debt.
 
In brief
 
·   Swiss hedge fund Teleios Capital Partners has increased its stake in Glenveagh Properties to nearly 21%
·   Winthrop Technologies reported pre-tax profits of €111.8m for the year to the end of April
The Sunday Times is a digital subscription. We encourage you to support quality journalism and subscribe or buy the physical newspaper. Subscribe here.
The Financial Times
Crispin Odey, founder of investment firm Odey Asset Management, is facing his first lawsuit over sexual assault allegations, according to the cover of this week's Financial Times. The paper reports that two of Odey's alleged victims have submitted civil claims in the High Court against him. The plaintiffs have also brought a case against the firm itself.
 
According to the country's statistics agency, some news from the Eurozone and Italy's economy grew by 1.3% more in 2021 than originally estimated. It means Italy's gross domestic product grew by a revised 8.3% in 2021, up from an initial estimate of 7% in a better-than-expected recovery from the Covid-19 pandemic.
 
In Companies & Markets, it's reported that Microsoft's proposal to acquire Activision Blizzard took "a big step forward" after the UK's competition regulator provisionally accepted the revised $75bn deal. Under the terms of the new deal, Microsoft agreed to sell Activision's cloud streaming rights to France-based rival Ubisoft. 
 
The FT is a digital subscription. We encourage you to support quality journalism and subscribe or buy the physical newspaper. Subscribe here.
The Wall Street Journal
"Amazon to put ads in Prime video shows and movies" headlines one of the top stories in this week's WSJ. The paper reports that Amazon is joining Netflix and Disney+ by allowing ads on its basic streaming packages. All Prime members will be automatically put on the ad-supported service when it comes into effect next year, but they will have the option of an ad-free service for an additional monthly charge.
 
Disney said it planned to spend around $60bn expanding its theme parks, cruise lines and resorts over the next decade. The company said it would prioritise spending on projects that could generate strong returns. 
 
And finally, one of last week's big business news stories is that Rupert Murdoch is stepping down as chair of Fox and News Corp. Murdoch hands over the reins to his eldest son Lachlan, who will now become sole chair of the company. In a staff memo, Murdoch, who is 92 years old, said: "The time is right for me to take on different roles."
The WSJ is a digital subscription. We encourage you to support quality journalism and subscribe or buy the physical newspaper. Subscribe here.
Shay Dalton
All views are strictly my own brief interpretation of the articles in the various publications and are not intended to be comprehensive. Please feel free to forward to friends or colleagues and get in touch if you wish to add contacts to the mailing list.