Leadership in Focus: Foundations and the Path Forward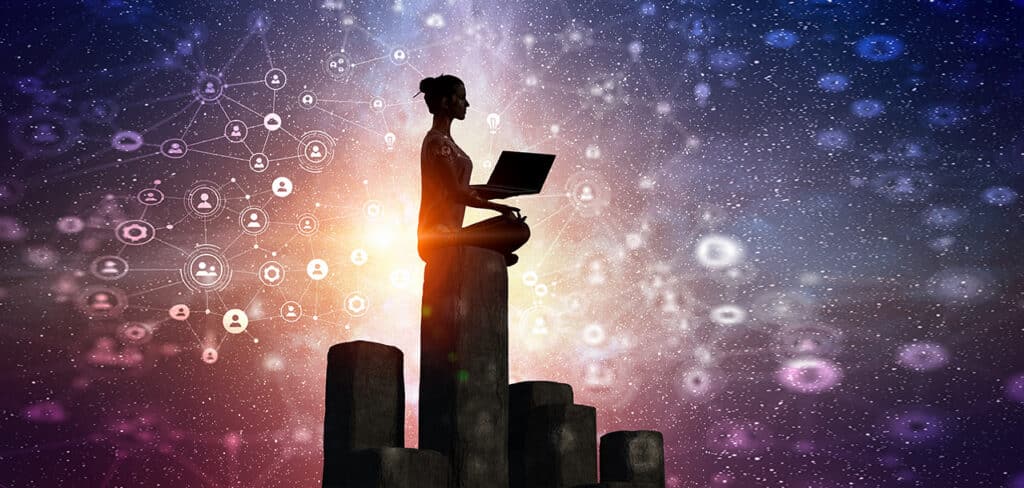 1. Modern Leadership: Bridging Tradition and Innovation
Tokyo, a city where centuries-old temples stand alongside cutting-edge skyscrapers, exemplifies the merging of tradition with innovation. It paints a vivid picture of today's leadership paradigm, where the challenge is to preserve age-old wisdom while embracing the agility demanded by modern times.
Take the example of Indra Nooyi, the former CEO of PepsiCo. Her approach was not just anchored in advanced business strategies but was deeply influenced by her roots and traditional values. By penning personal notes to the parents of her executives, Nooyi demonstrated a unique synthesis of cultural respect and contemporary leadership—suggesting that the two aren't mutually exclusive but can indeed complement each other.
Now, more than ever, leadership encompasses a broader range of skills and qualities. Cross-cultural understanding, for instance, has emerged as a pivotal asset. It's not just about an American entrepreneur being fluent in Mandarin but understanding and navigating the nuances of global markets, appreciating cultural subtleties, and forging meaningful partnerships across borders.
Ethical leadership is another domain gaining prominence. Companies like Patagonia, led by visionaries like Rose Marcario in the past, have shown that responsible governance isn't just about ticking corporate responsibility boxes. In fact, Patagonia has committed to donating 1% of its total sales to environmental organisations through its "1% for the Planet" initiative, amounting to over $89 million in donations since the program's inception. This move is a testament to genuinely embedding sustainability and transparency into the core business strategy, setting a gold standard for other enterprises to emulate.
In places of innovation like Silicon Valley, the very definition of leadership is evolving. It's not confined to boardrooms or dictated by tenure. Here, a brilliant idea can propel a young developer into a leadership position, proving that age is becoming less of a determinant. Instead, adaptability, innovative thinking, and a relentless drive are becoming the hallmarks of modern leaders.
This shift in leadership dynamics extends beyond the corporate sphere and into global governance. While individual leaders may have their strategies and legacies debated, certain qualities are universally revered. Steadfastness, principled decision-making, and genuine empathy are essential traits for effective leadership in our interconnected age.
In today's organisational landscape, leadership is omnipresent, transcending hierarchies. Firms like Google underscore this, promoting a culture where leadership emerges from collaborative efforts, proactive initiatives, and shared responsibilities. As the business world becomes increasingly complex, understanding and adopting these multifaceted leadership approaches isn't just commendable; it's imperative for sustainable success.
2. Leadership: A Blend of Nature, Nurture, and Adaptation
In every organisation, each individual brings unique skills and perspectives. While each member's contribution is vital, the leader, much like a conductor, brings together these diverse talents to create a cohesive and effective outcome. Today's leaders harness their natural abilities and continually refine and develop new skills to lead effectively.
Leadership is a synergy of inherent traits and cultivated abilities at its core. Determination, decisiveness, and vision may be innate for many, but skills such as emotional intelligence underline the constant evolution and adaptation that the modern leadership landscape demands. The journey of Ratan Tata, who transformed the Tata Group into a global conglomerate, exemplifies this balance. His leadership displayed a mix of inherited business acumen and learned skills, showcasing the essential interplay of nature and nurture in leadership.
In our fast-changing corporate world, leaning solely on inherent strengths or past achievements doesn't suffice. Leaders like Isabelle Kocher, the former CEO of Engie, one of the world's largest utility companies, recognised the importance of adaptability and sustainability in modern leadership. Under her direction, Engie embarked on a radical transformation, moving away from fossil fuels and heavily investing in renewable energy sources and infrastructure. This bold shift was not just a business strategy but a reflection of Kocher's vision for a sustainable future. She spearheaded efforts to divest from coal operations and led Engie to invest in innovative renewable energy projects, embracing the future of clean energy. Effective communication played a crucial role in this transition. Kocher was adept at relaying information and conveying her passion, vision, and purpose to her team at Engie and the broader public, emphasising the company's commitment to a sustainable and environmentally responsible future.
Diverse approaches to leadership also paint the modern landscape. While some leaders may naturally exude authority, others bring forward the strength of collaboration, collective achievements, and mutual respect. Leadership in the realm of the arts, for instance, as demonstrated by Theaster Gates—a social practice installation artist—shows how leadership can transcend corporate and political boundaries, making waves in cultural and community contexts.
Leadership today is not just about a title or a position. It's a harmonious blend of what one is born with and what one learns and adopts, all tuned to the evolving needs of organisations and societies. Two prominent leadership styles that have gained traction in this context are 'laissez-faire' and 'transformational' leadership.
The laissez-faire style, which is derived from the French term meaning to "let go", allows team members significant autonomy in their work. Leaders like Steve Jobs and Steven Bartlett are often associated with this style. They trusted in their teams' inherent creativity and drive, intervening only when necessary. Such an approach has its merits in industries that thrive on innovation and where the creative freedom of individuals is paramount.
On the other hand, transformational leadership, as embodied by figures like Richard Branson, inspires and motivates team members to exceed their own expectations and achieve a collective vision. These leaders are proactive, continuously challenging the status quo and instigating change to better the organisation. They foster an environment where both the leader and the team support each other's growth and transformation.
Both these styles emphasise the shift in norms surrounding leadership today. It's no longer about just directing or managing but about inspiring, trusting, and continuously evolving to meet the ever-changing demands of the modern world.
3. Shaping the Future: The Role of Proactive Leadership
Proactive leadership focuses on more than just addressing current challenges; it's about actively planning and influencing the future. While entrepreneurs like Elon Musk are often highlighted, digging deeper and understanding the foundational principles that enable such forward-thinking actions is important.
One key concept from organisational psychology is 'Psychological Safety'. Introduced by Harvard Business School professor Amy Edmondson, it describes an environment where team members feel secure in taking risks and expressing their ideas without fear of reprimand. Successful teams, like those at Google, have pinpointed Psychological Safety as a driving factor. When leaders cultivate this safe space, they express organisational values and encourage a culture where innovation can flourish.
This atmosphere of trust and openness is especially crucial in today's interconnected world, where leadership actions are constantly scrutinised. Every decision and every mistake is magnified in the digital age. It underscores the idea that ethical behaviour isn't just a commendable attribute—it's vital. Leaders who prioritise psychological safety invariably pave the way for ethical leadership. In this scenario, proactive leadership revolves around upholding transparency and ensuring that decision-making is always rooted in strong ethics, allowing team members to communicate openly and act with integrity.
However, challenges such as persistent gender biases remind us that there's still work to be done. Effective leadership recognises such biases and takes deliberate steps to address and overcome them, ensuring that potential is recognised and nurtured regardless of gender or background. For instance, the often-discussed gender pay gap shows that women, on average, earn less than men in nearly every single occupation for which there is sufficient earnings data. This reflects a systemic inequality and can damage psychological safety, as it conveys an implicit message that women's contributions are less valuable. Proactive leadership recognises such biases and actively works to address and correct them, ensuring that every team member feels valued and heard. This atmosphere of trust and openness directly feeds into the broader principle of psychological safety, where individuals can communicate openly without fear.
In conclusion, proactive leadership is about foresight and action. It means navigating the present while laying strong foundations for the future, driven by a combination of psychological understanding and ethical commitment. Today's leaders don't just ride the waves—they help create them.
4. Crafting Your Leadership Path
Leadership is a unique journey, blending inherent qualities, acquired skills, and external influences. Apple's co-founder, Steve Jobs, advocated for pursuing passions and trusting one's instincts. However, the leadership voyage extends beyond instinct. Like those by Daniel Goleman on emotional intelligence, ground-breaking studies highlight self-awareness as a keystone of effective leadership. Such understanding aids leaders in harnessing their strengths and addressing their vulnerabilities.
Adaptability is pivotal in the current age of rapid technological and societal changes. Management theories such as the Situational Leadership Model, developed by Hersey and Blanchard, emphasise that leaders must adjust their style based on the task and individual's maturity. So, while the world moves quickly, aligning personal and organisational values ensures that leadership remains authentic and relevant.
Every leadership story is unique and shaped by personal aspirations, experiences, and trials. Recognising this, there's a need to move beyond one-size-fits-all strategies. Customised leadership plans, tailored to individual paths and goals, prove more effective than generic formulas. A principle of economics, the Theory of Comparative Advantage, posits that individuals or entities should capitalise on their strengths. In the leadership context, this underscores focusing on one's unique capabilities and value propositions. Furthermore, leaders aren't isolated figures; they operate within complex organisational ecosystems. Just as a sailor must consider the sea's currents and weather patterns, leaders must understand their organisational cultures. An environment fostering open dialogue, feedback, and continuous learning can catalyse a leader's evolution. Conversely, restrictive cultures might pose challenges. But in both contexts, understanding and adeptly navigating these nuances differentiates good leaders from great ones.
In essence, leadership is not a linear path but a dynamic journey. It combines introspection, adaptation, and understanding of the larger organisational landscape. As the saying goes, it's not just about the destination but the journey and how one travels it.
5. Visionaries to Tomorrow's Leaders
Great leaders throughout history have consistently displayed adaptability, innovation, and a commitment to mentoring the next generation. Larry Page's leadership at Google exemplified this. Rather than solely focusing on ideas, he emphasised nurturing talent, most notably by mentoring Sundar Pichai. This approach underscored the belief that a true leader's legacy is in empowering successors. Apple's resilience and ability to reinvent itself embody the "falling forward" concept — transforming challenges into opportunities. Amazon's success story is a testament to adaptability, echoing Bruce Lee's advice to be "like water," — flexible, yet forceful. In the tech realm, Netflix's pioneering use of AI and Microsoft's emphasis on cloud computing under Satya Nadella highlight the importance of forward-thinking innovation, drawing parallels to historical visionaries like Tesla and Edison.
6. Cultural Harmony: Crafting the Future of Leadership
Satya Nadella's transformative journey at Microsoft exemplifies the essence of a growth mindset, teaching us that true success isn't solely about beginnings but rather the directions we're willing to explore. With its relentless drive to innovate, Tesla embodies the spirit of pioneers who are never content with the status quo. Adobe's culture of valuing feedback and continuous improvement is a testament to the belief that "iron sharpens iron," highlighting the power of collective growth and learning. Similarly, Spotify's commitment to inclusivity is not just a nod to diversity but a clear indication that the future of leadership mirrors and celebrates the myriad voices of society.
In essence, these examples underline that the modern leadership paradigm thrives on adaptability, continuous growth, and cultural harmony, emphasising that the best leaders not only lead but also listen, learn, and reflect the diverse tapestry of our global community.
7. Nurturing Leadership: Strategies, Collaboration, and Vision
Margaret Heffernan's concept of "wilful blindness" refers to the deliberate decision to ignore or avoid inconvenient facts or realities, even when they are readily apparent. It underscores the importance of leaders being vigilant, aware, and attentive, breaking from conformity to foresee and address challenges. Salesforce's culture, which champions innovation and disruption, mirrors the economic principle of 'creative destruction' proposed by economist Joseph Schumpeter, where innovative methods and ideas replace old ways of doing things. Reflecting on the management theories of Peter Drucker, he emphasised that "Management is doing things right; leadership is doing the right things." As emerging leaders design their journey, frameworks, like Amazon's leadership principles, serve as contemporary iterations of timeless navigational tools — guiding leaders both on well-trodden paths and ventures into the unknown.
8. Future Leadership: Charting New Waters with Timeless Principles
Drawing from Charles Darwin's insights, it's not the strongest species that survive, nor the most intelligent, but the most responsive to change. In the realm of leadership, this rings especially true. Traditional hierarchical models are yielding to a more collaborative and adaptive approach. The dawn of AI and the intricate dance of globalisation echo the words of economist John Maynard Keynes, emphasising the need to be versatile in the face of "animal spirits" or unpredictable elements in markets. Cybersecurity concerns today might parallel the challenges once posed by maritime pirates during the age of exploration, underscoring that while challenges evolve, the essence of leadership remains in navigating uncharted territories. Tomorrow's leaders will not only ride the waves of technological change but also harness the diverse strengths of global teams and confront ethical quandaries in a deeply interconnected era guided by principles as old as leadership itself.
9. Leading Forward: Drawing from the Past, Shaping Tomorrow
Much like Rome, which wasn't built in a day, leadership thrives on a foundation of age-old principles fused with modern foresight. This blend is reminiscent of the principles set forth by legendary strategist Sun Tzu in "The Art of War" – understanding the terrain, knowing oneself, and being fluid in response. Today's urban jungles, from Tokyo to New York, encapsulate this harmony; they meld historical foundations with skyscrapers of ambition, symbolising the fusion of past wisdom with future vision. Leaders like Indra Nooyi exemplify this duality, resonating with the roots of ancient wisdom while spearheading an era of digital transformation. Leadership, therefore, isn't a destination but an ongoing odyssey. Much like cities that reinvent while retaining their essence, leaders must be perpetual pioneers with an eye on the horizon and feet grounded in enduring values.
More on Trust
The Importance of Trust article by Shay Dalton
Elite Team Cohesion article by Jonny Cooper
Leadership in Focus: Foundations and the Path Forward article by Shay Dalton
The Importance of Ethics article by Shay Dalton
"Empowering" Workers is More Than a Catchy Phrase article by Shay Dalton