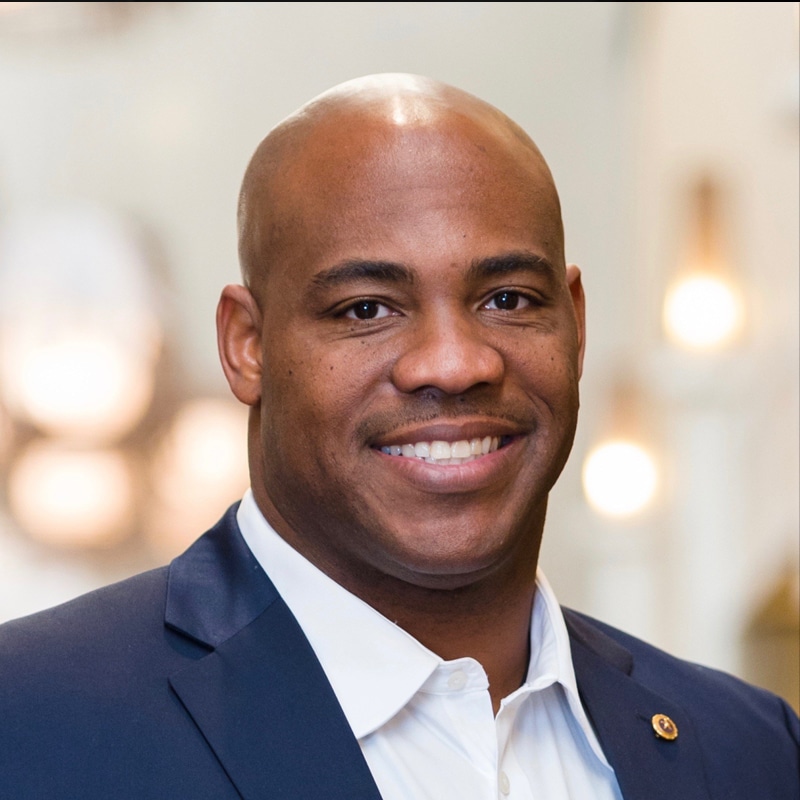 #61
Leadership Lessons from Obama and Other US Presidents
Anton Gunn
---
A former senior advisor to US President Barack Obama, Anton Gunn is Chief Executive Officer of the 937 Strategy Group – a minority-owned management consultant and professional services firm based in the US that helps organisations build cultures that empower high-performing teams and leaders in the workplace.
Anton speaks regularly at events and conferences, sharing insights on the development of leadership skills, the impact of meaningful engagement in work environments, as well as healthcare policy – having been involved with Obama's Affordable Care Act.
He is the author of three books, 'The Audacity of Leadership: 10 Essentials to Becoming a Transformative Leader in the 21st Century', 'Raising C.A.I.N.: Four Keys to Increase Your Impact as a Leader', and 'The Presidential Principles: How to Inspire Action and Create Lasting Impact', which considers interactions with five different US Presidents while helping readers to develop their own effective leadership practices.
Anton is a leading authority on Socially Conscious Leadership, and is someone that we've wanted to speak to on the 1% podcast for some time now.
Subscribe
Find the show on your favourite player
Summary
02:33 Anton's background
Anton tragically lost his brother, Cherone Louis Gunn, who was one of the 17 US servicemen killed in the October 12 2000 terrorist attack on the USS Cole in Yemen
Hip hop music has had a huge impact on Anton
Anton found peace and recovery from helping other people
06:10 How 9/11 continues to shape our world
It triggered a sense of vulnerability for all, embedding in a subconscious sense that there is an ever-present enemy
Just like 9/11, the Covid-19 pandemic will have a lasting impact on us all, by making us more cautious of each other and more reliant on institutions to keep us safe
We need to move towards trusting people more
09:57 On rap music's messages
The biggest artists dropped out of high school and didn't have any formal education, and they have built careers telling great stories through music
One of his favourite artists is Nas
Rap music helps highlight the world's injustices and it provokes the question of what are we going to do to make the world a better place?
Music is a universal language
15:32 Anton's inclination to act, as opposed to hoping things will change and improve
From his time studying at the University of South Carolina, he founded and led the first-ever student advisory committee that had a specific focus on the holistic well-being of student athletes
In the 90s, college dictated how college athletes would spend their time, thankfully a lot has changed since
22:02 Why Anton decided to step towards public representation
Anton despises injustice and unfairness
A leader's responsibility is to do what's right
"You can't solve every problem, but you can do something"
From his previous community work, Anton saw for ten years how health insurance was a huge social problem in the US
He decided to be a public official to make free access to healthcare a human right in the US
He met Barack Obama and helped him run for president
When Gunn ran for a state house seat in Columbia he lost by 298 votes, which inspired him to run again in 2008 and he won by 3000 votes
27:20 The key leadership traits of Barack Obama that struck Anton as he got to know and worked with the former president
No one is born a great leader
To become a great and successful leader, you need to invest in personal development and find great examples of leadership
Obama is a great listener, he's very curious about people's experiences – he also surrounded himself by people smarter than him, and he was never deterred by his mission by naysayers and critics
As leaders, it's important to not overshadow your previous leadership role when you move on
Obama's work post-presidency will have an even greater impact than when he served eight years as president
38:38 On USA being a divided nation
Anton has a degree in history and believes that there is a lot we can learn from history
He believes that this is not the most divisive time in history – it was the American Civil War
The three fundamental questions leaders need to answer those that they lead: 1) Do you care about me? 2) Will you help me? 3) Can I trust you?
Leaders need to answer 'yes' to the above questions through their actions
America needs a new breed of politicians who listen and care
43:59 The importance of giving feedback
We all want to do well, so without any positive/ negative feedback, we can easily drift to negative habits
The best organisations have developed great systems to give feedback
Failing companies with poor feedback systems have worse products, lower productivity levels and higher staff turnarounds
47:55 Examples of exceptional and effective leadership
Anton is the author of 'The Presidential Principles', which focuses on everyone's ability to develop leadership skills but through the lens of Anton's various encounters with five different presidents – all very different men in their own right
His encounter with George H W Bush (Senior) is that he volunteered for the navy, so he had unwavering commitment to serve other people at an early age and throughout his career
Bill Clinton demonstrated that he was never too big or too busy to seek the needs of the people that he served
53:41 Authenticity in leadership
The real 'you' will show up when faced with adversity, so be the real 'you' in all situations
People want to see themselves reflected in their leaders
There is no perfect leader
"Service is the prerequisite of leadership"
59:01 The SICK Leadership framework
Selfish, Insecure, Controlling, Know it all
You don't want to be a SICK leader
Everybody needs a mentor – "you are never too old to learn or too young to teach"
Anton is currently working with three mentors
1:03:03 Anton's key advice on becoming a better leader
Immerse yourself in reading and apply the learnings
Be in a community where there are other people who want to develop and evolve, by attending workshops or events
Try a new thing to get out of your comfort zone
Links Mentioned: