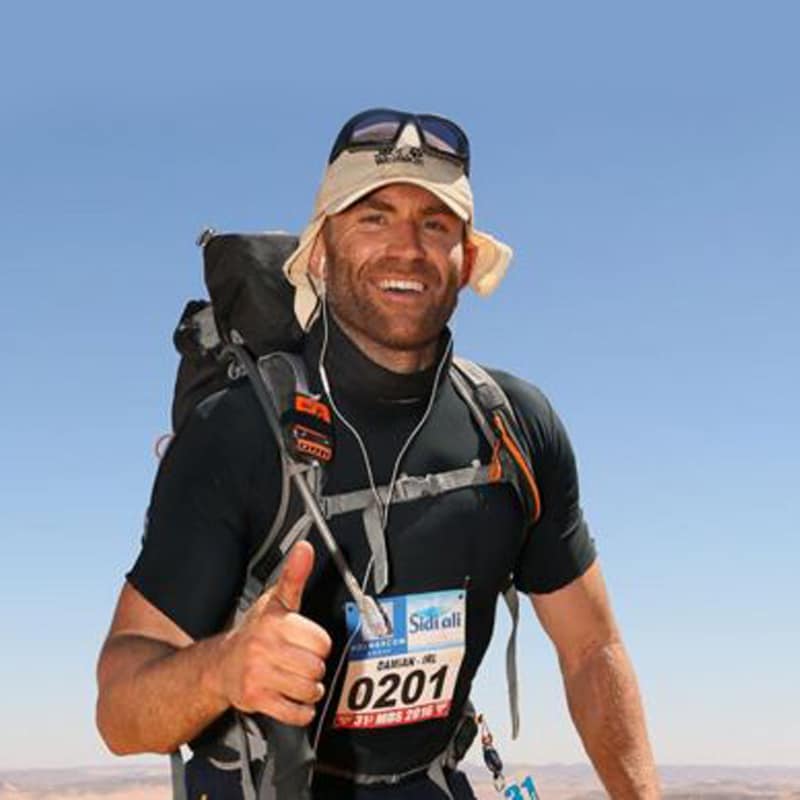 #34
Adventure and testing new boundaries
Damian Browne
---
Damian Brown, former professional rugby player talks to us about the exploration of his physical and mental limits, rowing the Atlantic and conquering the Seven Summits.
Damian played elite rugby with clubs such as Leinster, Connacht and Brive. After retirement, he embarked on a life of exploration and adventure successfully defeating the Marathons des Sables, single-handedly rowing the Atlantic and is currently working his way to climbing the Seven Summits – preparing for his Mount Everest climb in 2021.
It's an exciting narrative with some unique insights into motivation, grit, performance and pushing yourself to the limits from someone who still hasn't found his own boundaries despite conquering some of the toughest challenges in the world.
Subscribe
Find the show on your favourite player
Summary
3:07 Family life growing up in Galway City
Vibrant neighbourhood for a child
Close to beach and woods
4:50 The mindset of challenging himself from a young age
"We're creatures of habit"
Expanding boundaries by exploring new landscapes
Climbed Malin Head
7:14 Hidden gems in Ireland
Eagle's Rock, Leitrim
Views from Mweelrea in Connacht
The Caves of Keash in County Sligo
9:01 His rugby years and its influence on 'peak performance'
Long-term and ongoing learning
Pro for five years
The rugby environment has changed so much over past 20 years
Formed by the environment, the people and its demands
The sacrifices involved
10:49 Memorable moments from the rugby career
The Golden Age of players
Getting the marching orders from Martin Johnson
"Scary" Olivier Merle
13:02 Different coaching styles across each stage in rugby career
Return to Leinster was a 'culture-shock'
Different coaching-style in France
Moving between clubs due to opportunities
A year to find his feet
16:09 Joe Schmidt's reputation and his approach to pushing limits
Giving the player power
Focus on process and systems
"The key is: are you putting in the work?"
Empowered to work and improve on things
18:18 How an extraordinary team is built from ordinary people
Setting clear standards and demands
Seeing even the best players in the world working hard
Raising the standard of the whole environment
21:30 His approach to retirement from rugby
"You're either moving forward, or dying"
Enjoyment being in uncomfortable environments
Physical and mental health has been the driving force
Swapped one passion for another
Fear of exposure
Tuned in to signals of 'reverting back' and seeking comfort
Asking questions around his behaviour that was driven by fear
Clarity helps compartmentalise negative thinking
30:08 Transition from group to solo challenges
Motivated by improvement
Hunger to leave rugby behind and carve own training
Choose own individual training plan, and not curtailed by a group
"Competition brings the most out of us"
6 – 7 minute indoor rower 2km test
If it's not hard, push yourself more
30:08 Maintaining core values
Difficulty in peer pressure environment
Example of practising press-ups
Avoid cutting corners
32:55 Regular challenges Damian sets himself
Physical training and cold water: "it never gets easier"
Habits of overcoming resistance
Setting training tests every few months
12 week training cycles
Recovery time
28 minutes in the cold water at the end of February
39:40 What drew Damian to Marathon des Sables
Watching a documentary about the Donovan brothers
"I just knew I would do it someday"
41:35 How tough is Marathon des Sables?
"Depends on how well you prepare and push yourself"
Keen to do the race again and push his comfort zone
Going to the toilet in bags and battling with hunger
Professional sports taught him a lot about nutrition and stress
Key to recovery is sleep and nutrition
47:27 On the world's longest train across the Sahara desert in Mauritania
704km in total
"Adventure is a mindset"
To practise photography skills
49:19 What exploration means to Damian
"New ground, new places, new faces, new sights, new smells"
Internal exploration involved
51:37 The motivation around adventures and exploring
It could be as small as walking a different route home
Grow in confidence
53:30 His solo and unsupported 5000km row across the Atlantic in 2018
"From start to finish there's a discomfort"
Challenge of funding
Reading 'The Crossing' by Ben Fogle and James Cracknell
On his 'Before 40' bucket list
Huge learning curves: from the maritime to the self
56:07 Strategy to deal with 'slumps' during the Atlantic row
Letters from family
Having a sat phone
Broadband Global Area Network (BGAN)
Recording video diaries
1:00:40 Capsizing twice and seeing a whale
Capsized in a storm
First capsize when asleep in cabin, second capsize when on deck
Unable to swim
"What can stop me from achieving what I want to achieve?"
Power of negative visualisation
Panicking is a massive dump of energy
Practising at Blackrock, Galway
1:08:26 Managing pain on the row
Pressure and sea sores
Constant pain that mentally impacts you
Pain makes you focus on the wrong things
Managing through self-awareness
Back to the present moment where you don't need to be anxious or stressed
1:14:26 Readjustment to 'normal life' after an adventure
Having time alone
Decompress on route back home with a mini-trip
Take time off from training
Wired to be present in the moment
1:17:06 Trusting your gut
It comes through time and life experiences
Guiding force
1:18:37 Rowing across the Atlantic again in 2022 with lifelong friend Fergus 'Gussie' Farrell
First time to link the challenge with Ireland
Ticks all the boxes for a challenge
Seldom done route: 52 crossing attempts
First Irish pair to attempt it
1:21:00 His relationship with fear
"All I know is physical pursuits"
Strong sense of self-belief
"It comes down to self-awareness"
Learning to ask yourself the right questions
1:24:09 Motivation to climb Mt. Everest
Current ambition is to climb the highest mountain on all seven continents
Fear-drive motivation
Mind drifts to "what's next?"
Postponed from this year
Down to 105kg
1:30:24 Physically and mentally training for Mt. Everest
Mitigating physical stressors
Be at the right weight, below 100kg
Spending time on the mountains
Buteyko breathwork
Mental prep happens much closer to the expedition
Visualisations and affirmations
Don't leave things up to chance
Nutrition
Doing expedition with Jagged Globe
1:36:57 Impact of Covid-19 on Mt. Everest expeditions
No one knows what next year will look like
Permits to crowd control
1:39:31 Approach to fear on the mountains
There are things you have no control over
No "harness" on the mountain
The art of not dwelling
1:41:55 Losing weight on Mt. Everest expedition
Impact of mass and oxygen
Fuelling well on the mountain
Lost 28kg rowing the Atlantic
1:44:29 Advice to people about achieving their potential
"We're all limitless in our potential"
Having purpose
Take the first steps
Links mentioned: