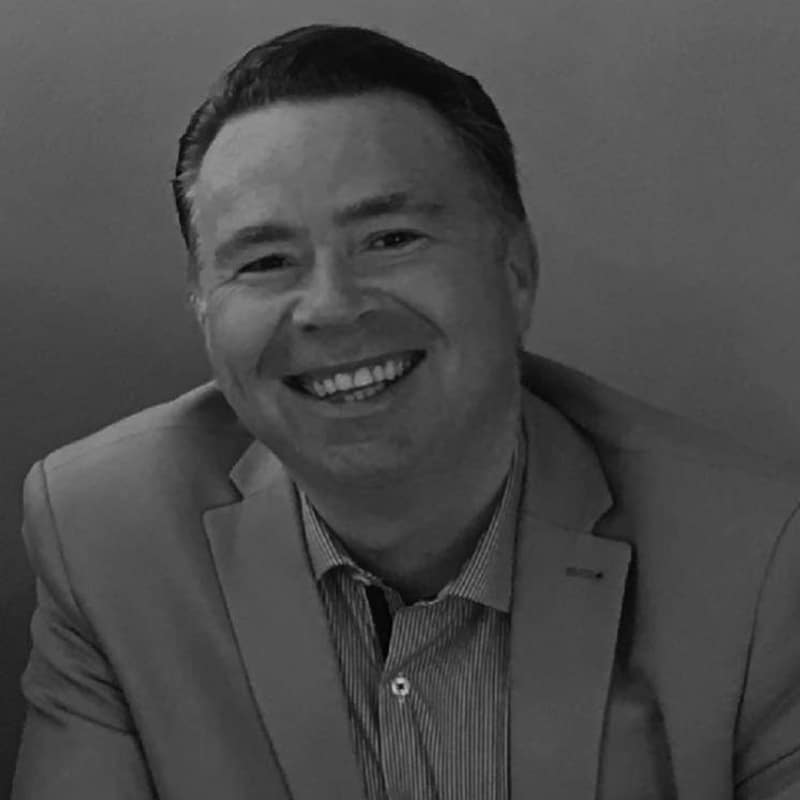 #31
Teaching a way to wellness
John Doran
---
For over 25 years, John has worked in the Patrician Secondary School, Newbridge as a Teacher and now as a Guidance Counsellor. He is the author of the acclaimed book 'Ways to Well-being' which is being taught in over 140 schools in Ireland and Europe. It focuses on teaching young people how to manage their emotions, change, relationships – everything to ensure they thrive no matter the challenge.
John is also a Founding Chairman of the Network of School Planners and is a member of the Board of Directors of the Make-A-Wish Foundation Ireland.
He is passionate about the transformative power of education to disrupt lives for the better and is dedicated to helping young people do everything they can with all that they have in the time that they're given.
John is a prolific public speaker on the topics of well-being, resilience, stress management and maximising performance, both nationally and internationally. His events have included a TEDx Talk in 2018 called 'Positive Education for the 21st Century: Helping Young People to Thrive in a World of Busy'. He has given talks to management bodies, education trusts, teachers, parents and students.
In a world where our attention and our time are scarce, we are delighted to have John on the podcast to talk about his experiences and research into performing in what is an increasingly busy and complex world.
Subscribe
Find the show on your favourite player
Summary
2:47 How schools and students have coped with Covid-19 so far
Remarkable agility
"We find ourselves all in the storm, but in different boats."
3:45 What does it look like for students to be the "best version of themselves"?
"Education is the only weapon they have to make sure demographics doesn't equal destiny."
Being the first person in John's family to go to college
4:45 As adults, do we develop skills that simply can't be learned as young people?
Seeds are planted from a young age
Learning is a long-term process
Life skills: listening, networking, communication, etc.
6:43 The meaning behind well-being
Reflecting on Martin Seligman, the founding father of positive psychology
Areas to fulfil: feeling good, purpose, relationships, and accomplishment
"The most important relationship you'll ever have is with yourself"
8:35 Remaining curious throughout your life
We undervalue what we have
The need to be more "WEIRD"
Wisdom, Empathy, Initiative, Responsibility, Development
Einstein's relentless curiosity
So much undiscovered talent at school
11:15 Why workplace well-being has become a priority in recent years
Concern that well-being could become a box-ticking exercise
How well-being sits within our new remote world
Questioning how wellbeing is being implemented
12:43 Well-being at a government level in Ireland
We all have a part to play
For the well-being of your children, invest in your well-being first
Be strategically selfish –
14:22 Sustainably improving well-being
Sense of agency
Learned helplessness
15:27 Mind your MEDS acronym
Mindfulness, Exercise, Diet, Sleep
John's first exposure to mindfulness from his teacher
It's about slowing down
20:07 Advice to being more present
Techniques learnt from James Kerr's book 'Legacy'
Don't be hard on yourself when you're not fully present
Micro-breaks to check in with yourself
22:17 1% improvements
Dave Brailsford teaching his team how to wash their hands
Marginal gains
24:07 The story of a woman brought up in Soviet occupied Hungary
Gratitude for the bright yellow and green bananas compared to the Soviet greyness
"Lower the amount of things you're grateful for"
Take conscious breaths with gratitude
27:35 Breaking the 'hedonic treadmill'
Happiness is an 'insperience'; an inside job
Meerkat Moments
Happiness is where you place your attention
30:33 Can happiness be reliably measured?
Identify what success looks like
"I've done the best I can with the ability that I have"
Conversations to have with your children, beyond homework
The inner-critic amongst teenagers
33:05 Fulfilling the potential of young people
Parenting and teaching the generation on their screens
Generation of comparing themselves to others online
"Prepare the young people for the path"
Identify their strengths
"We have to put Maslow before Bloom"
37:23 Lessons from Brother Colm O'Connell
"Aren't we all in transition?"
Take the pressure off to be free
The person happens to be an athlete, not an athlete happens to be a person
So many expectations weighed on young people
In conversation with Howard Behar, former CEO of Starbucks Coffee Company: "I am enough, I have enough, I do enough"
41:37 Ideas for current Transition year students
Keyword is 'choice'
Young people aren't reaching out to network enough
There is still time to grow and develop
Balcony (ownership) vs basement ('why me?') thinking
"Small hinges open big doors"
Quiet leadership
46:27 Key fundamentals from John's programme for wellness in schools
Tal Ben-Shahar's positive psychology talk
Lessons from sports psychology
Enda McNulty's story about Brian O'Driscoll
Nurture your relationship with the past, present and future
Attention given by young people
51:26 Is the modern education system facilitating well-being properly?
"We have a system perfectly designed for a world that no longer exists"
Capacity to co-create a new curriculum
53:22 Judging institutions on how well they promote happiness
The league table is very one-dimensional
The need for a conversation about what is intelligence
55:16 Healthy reference points that protect our well-being in a society geared towards individual gain and competition
Roy Keane: driven by fear
The skill of interpreting situations
"Stinking thinking"
Strive for good enough, not perfect
Talk to yourself like a friend
"It's your attitude, not your aptitude, that will determine your altitude"
57:48 The impact of practising daily gratitude
Professor Robert Emmons on writing down three things you're grateful for each day
What are the 50 things that make you happy?
Being granular: the small little things brought to the foreground
1:01:17 Teaching altruism at school
"A focus on we rather than me"
Sense of cohesion
"Givers gain"
Work for the Make a Wish Foundation
The 'I Win Disease': I Want It Now
1:04:23 Can empathy be taught amongst young adults?
Learning from Design Thinking: put yourself in the position of the user
The 'disinhibition effect' of social media
3 components to emotional intelligence: awareness of your emotion, ability to regulate it, and the ability to empathise with the emotions of others
Empathy in the world of work
"What you say is not necessarily what the other person hears"
1:10:26 Is screen-time harmful or harmless for young people?
Attention for young people has been commercialised and commodified
Negative impact on ability to focus
Dr Nick Littlehales on sleep hygiene for Manchester United
No screens at bedtime
Concerns about the move to blended learning
Educate children on digital literacy
Before you post something: is it true, helpful, inspirational, necessary and is it kind?
Social media checks from potential employers
1:15:21 How we can practise John's lessons day-to-day
"The world breaks everyone and afterward many are strong at the broken places" – Ernest Hemingway
The ABCDs of life: Always Be Continually Developing