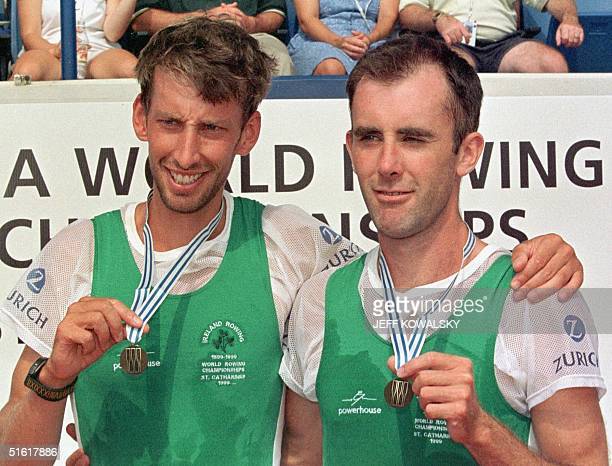 #9
Career to date and the future of rowing in Ireland
Neville Maxwell
---
Neville Maxwell is a former professional and international rower. He is currently a Director of Rowing Ireland and the Chairman of the High Performance Committee. He competed at the 1996 Summer Olympics and the 2000 Summer Olympics and is a multiple world rowing championship medalist.
In this episode, we discuss Neville's introduction to rowing, his professional career, experiences at the Olympics, thoughts on retirement and his current position as High Performance Chair and Director of Irish Rowing.
Subscribe
Find the show on your favourite player
Summary
0:55 Introducing Neville Maxwell and his major rowing accomplishments.
1:30 How Neville started off in the world of rowing.
How he started off struggling to find a sport he could do well at school
His father was involved in rowing and suggested he joined the rowing club
Neville's early influences and mentors were the senior athletes and coaches at the club
3:34 How it is being involved in a minority sport in Ireland
How many rowers there are in Ireland
It's not about making big money
It's a personal thing to want to be successful at rowing
4:40 About turning pro in rowing
First senior world championships was in 1991, and was a student at the time.
Once the Lightweight Four became an Olympic event Neville decided he should go pro
6:58 How Neville worked with gold medalist Thor Nilsen
He worked very closely with Thor
Thor originally thought of their team as a 'scraggly bunch' but he came in and gave them structure.
He empowered the clubs across Ireland and inspired many athletes to become successful
8:25 What made Thor want to become involved in the Irish rowing scene
Thor liked that the Irish people would commit to tough training.
He also liked that Irish rowers were hungry for success
Thor believed that there was great potential for rowers in Ireland, with the likes of Niall O'Tool and Tony O"Connor breaking ground.
9:52 The first experiences of the world championships
Neville's team originally could only manage Bronze or Silver medals – but never Gold.
On first meeting Thor at the championships, he told them that they 'Blew it' for only managing to get Bronze.
They had had a successful year up to the World Championships including setting a world record, but the main event was perhaps too much for them to cope with.
The experience drove them on to want to win, which then became their mindset for all competitions including the Olympics.
11:17 A typical week of training during the height of success
When still in day jobs, they would train thirteen times a week: In the morning before work and in the evenings after work.
Once going pro it was much more competitive, so they would train fifteen times per week
Thor would push them very hard, physically and mentally, to see who could take it. Those who survived ended up with a mentality that they could be very successful.
13:12 The dynamic in the boat
Neville says the dynamic was amazing
The middle of the boat was himself and Sam Lynch for the power, in the bow seat they had the calm, collected and strong Derek Holland, and Tony O'Connor set the tempo
Each person had to have a very strong belief in what they could do and what they brought to the team
They had arguments but also had huge respect for each other
14:28 How they make sure everyone in the team is reliably healthy to compete
They are monitored throughout the year before an event for their capacity to to tolerate lactic acid.
They simulated race conditions at a facility in Limerick
It can be difficult because in the simulations they were racing against themselves rather than it being a real competition
15:56 The lead up to the 1996 Atlanta Olympics
Thor Nilson and their coach John Holland thought they had the potential to do it
It was the first time they had qualified lightweight boats into the Olympics
All sixteen would race throughout the year, and if they won a regatta they would be asked to go to another. If you are winning medals then you were in the Olympic team, if not you could be swapped even if you qualified.
18:35 What it was like just missing out on a Coxless Four medal
It was tough, but they were proud of what they achieved. They gave it their best
Tactically they made one error compared to their successful semi final, which was having belief in what their ability was
The Americans and Canadians had an advantage from being close to home territory
19:42 Why they went out hard at the start of the race
Because you are literally looking backwards in rowing, it is all about yourself
They felt they needed to go out at a slightly faster tempo
The tactic worked well up to 750 meters
21:05 Qualifying for the Sydney games
It was a much more disjointed lead up, and it wasn't the same kind of structure as for the previous games
Thor Nilson left Ireland in 1997 so they didn't have a 'top mentor' to give them their routine.
Their coach John Holland did a good job, but the group had splintered and was difficult to keep together.
They qualified for the Lightweight Four and trained under Ray Simms in the UK, who brought a new style of racing and confidence to the team.
Things started to go wrong once out in Sydney
23:22 Being part of the golden era of rowing
Seeing Steve Redgrave winning his medal in Sydney
Olympics win made the sport more than just Oxford versus Cambridge and into a club sport
24:43 The international power-houses of rowing
Certain countries are very strong and have traditions in it
Ireland are ranked number 2 in the world
UK are a powerhouse, much to do with funding
25:44 Memories of the Olympic villages
For Atlanta they only briefly checked in to the Olympic village
They stayed in a private house for the Atlanta games, and kept themselves to themselves
They watched the Star Wars Trilogy during down time!
Post race 'beer and cake' party
28:26 Mental training
Thor brought in autogenic training and visualization into their training
No actual sports psychologists back then
The importance and practice of visualization
32:19 How rowing styles have changed over the years
How different countries have developed different distinctive styles
The style comes from the top down, in Neville's case coming from Thor
34:05 The influence of technology on the sport
Neville's views on the benefits of modern technology in rowing
You still need to 'have the feel', but it's good to have confirmation of what number you are on
As an outdoor sport you need to know exactly where you are
35:15 Retirement from rowing
Deciding to retire before the Sydney games, and that Sydney was going to be the last major competition
Life with his fiance became more important than rowing
36:20 Adapting to regular life after pro rowing
The struggle of transitioning from training thirteen times a week to going into an office job
Missing the buzz of competition
Loss of identity
Eventually enjoying working for New Ireland
Sports people often end up working for people oriented industries
38:45 On Cyclist Bradley Wiggins attempt to come out of retirement to try professional rowing
Bradley didn't look in great shape
He was trying to find a replacement sport for cycling
Neville loved rowing but didn't try to find a replacement
40:35 Parallels between high performance sports career and the professional work environment
Ability to manage time is a huge aspect of pro sport, and is very important in the work environment
Ability to think logically, and set targets and goals for what you want to achieve
Being able to get over setbacks, and how to cope with other people
Sport teaches you to be ruthless which is something you need to keep in check in a regular working environment
42:58 High Performance chair for Rowing Ireland
In 2016 The Board of Rowing Ireland decided they needed a High Performance committee to work with the high performance team.
He was once on the board twelve years years previously but decided it 'wasn't for him' after a year
Rather than having board members involved in dealing with issues they wanted a liaison, so Neville was asked to come on board as chair of this new committee.
44:59 Preparations for Tokyo 2020 with Antonio Maurogiovanni
It was a gamble bringing in Italian rower Antonio Maurogiovanni as high performance director, but they are now in a very strong position
Antonio has a mindset and mentality similar to Thor Nilson, and it turns out he was coached by him
He has the right level of drive and ambition, and he has created a team of coaches that is working
46:57 The significance of the O'Donovan brothers in Irish Rowing
The O'Donovan brothers have achieved more than anyone else had ever achieved, and everyone aspired to it
Regular club rowers became even more proud of their sport
They brought in a brand new style that didn't involve going off fast with subsequent peaks and troughs, but to go out and stay the same speed for the whole race
25,000 have come into the sport in Ireland since their win at the 2016 Olympics
49:42 Implementation intentions and strategies for the High Performance team training in Ireland
Every training session is thought out, and it has to have a specific purpose
If it isn't going to improve you or help you get what you are trying to achieve then you just don't do it
There is still the ability for athletes to show flair and relax
Athletes are now training better, and now many more people have the same the same self belief as the O'Donovan brothers
51:21 The loss of Morten Espersen to Irish Rowing as high performance director
Morten had a big reputation but decided it wasn't going to work for him under the new structures
It was difficult when he left but we have to look to the future
Parts of what he did are still implemented but new things have been added; it's an evolution
52:56 How things stand in general now for Irish rowing
The women's group has many strong and dedicated athletes
Lightweight rowing will be gone from the Olympic games after 2020
Paul and Gary O'Donovan will have to keep training hard to keep their place in the Irish boat and fend of competition
Diversifying from lightweight to heavyweight
54:41 The future weight category for the O'Donovan brothers
They will be lightweight until the Tokyo games
The maximum weight for one person is 72.5 kg for lightweight, and the average weight has to be 70 kg between the two
After 2020 they can start toward the heavyweight category but it will take time to bulk up for it
The disappointment of the lightweight rowing categories being removed the Olympics, and the preparation for it happening
58:36 Athletes to look out for in the run up to the next games
Targeting boats rather than people
The women's heavyweight pair is a boat that is keen to step up from where it was last year
Sanita Puspure, the world champion, will be wanting to keep her title
The men's heavyweight double is another one to watch
The objective is still to qualify five boats and see what we can achieve at the Olympic games
1:00:52 Young people starting out in rowing today
The 'Get Going, Get Rowing' program is a great success
Michelle Carpenter started the program, bringing rowing to schools that didn't have it before
Teaching kids how to row using machines
Teams teaching the kids will scout for new talent, and then see how they get on in a real river