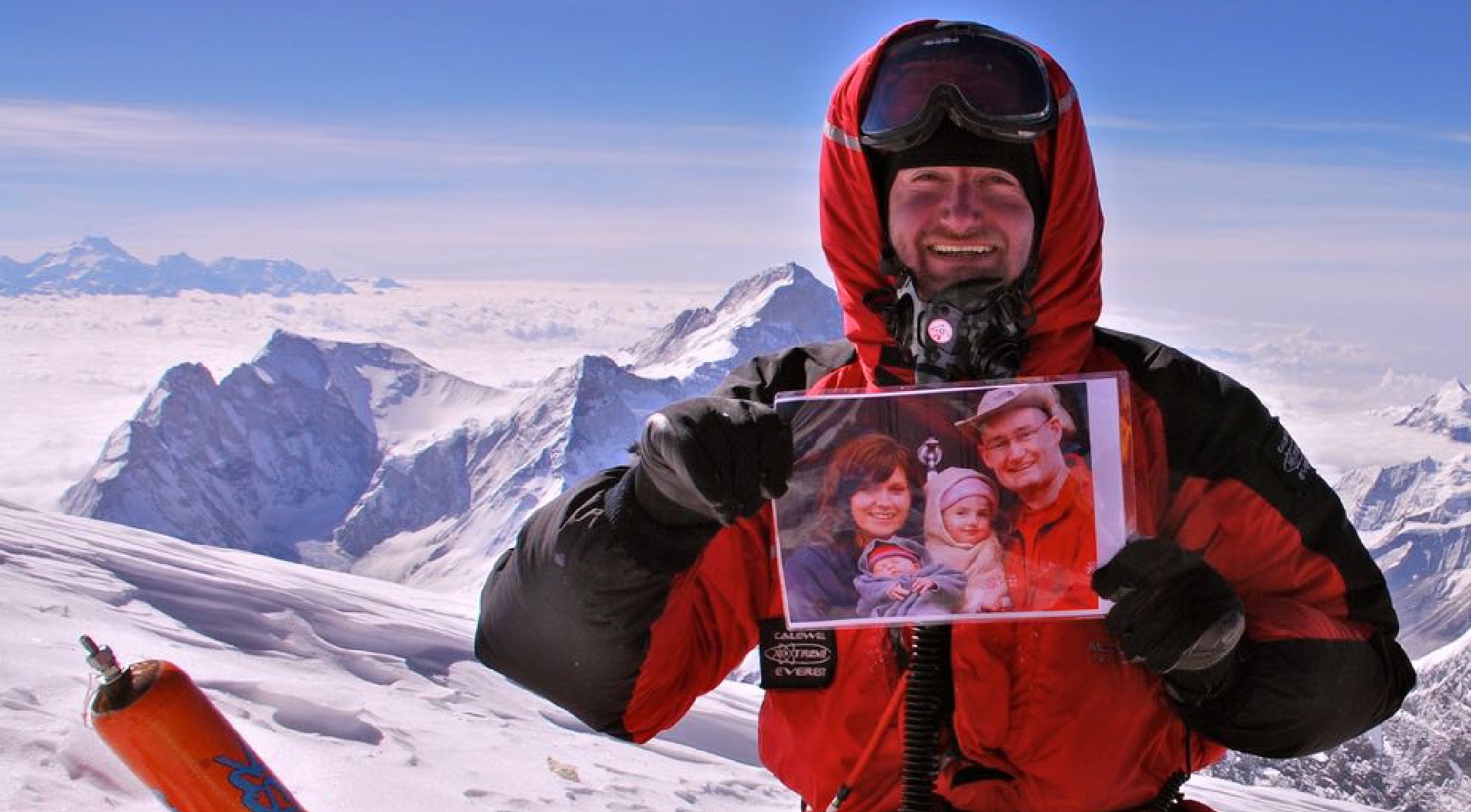 #11
The beauty and dangers of climbing the "Roof of the World"
Roger McMorrow
---
On the 24th May 2007, at 8am, in minus 40°C, Dr. Roger McMorrow reached the summit of Mount Everest the world's highest mountain from the South side.
In this episode we find out what it's like to stand on top of the world, the difficulty in getting back down, find out what is the 'death zone', the very real possibility of dying, controlling fear, the psychology of mountain climbing, bodies on the path, how to cross a 50 meter-deep crevasse, setting up the world's highest medical laboratory on Everest's South Col, rescuing a young Nepalese woman on the mountain, how long it takes to climb Everest, Sherpas, the Himalayas, Nepal, attitude to risk and much, much more.
This podcast was recorded a day before news broke that Seamus Lawless had fallen and went missing on the decent after summiting Everest on May 14th.
After discussing this with Rodger we felt that it was right to release the podcast as it highlights one person's journey to summit Everest. It also highlights the beauty and dangers of the mountain and some of the specific challenges that climbing Everest holds, as well the the dedication and efforts of those that climb the highest peak in the World.
Our condolences go out to the families of Shay Lawless and Kevin Hynes who tragically died climbing Everest this year. May they rest in peace.
Subscribe
Find the show on your favourite player
Summary
2:40 Introducing Dr. Roger McMorrow
His medical training and specialization in anesthesiology
His role as Clinical Director of Dublin's National Maternity Hospital
3:30 The origins of his love of mountaineering
Being expelled from Catholic school at 16 after a practical joke
Transferring to Friends' School in Lisburn
His introduction to camping and hiking through The Duke of Edinburgh scheme
Discovering the British Exploring Society – "The Hogwart's school of mountaineering"
Learning survival, climbing and camping skills in northern Norway
Joining the Queens University mountaineering club
6:25 Always higher
The main appeal of mountaineering: exploring strange and unusual places
Mountaineering offers something for everyone, whether it's bouldering, technical waking, or glacier travelling
Roger's first Alps climb in Chamonix-Mont Blanc
How his Mont Blanc climb made him want to go even higher
8:35 The pros and cons of Everest
While most mountaineers like solitude, Everest offers the opposite
Why several climbers have a love/hate relationship with Everest
9:15 Roger's team's scientific studies
The goal: to study the effects of low oxygen levels
His principal colleagues: Nigel Hart and Michael O'Dwyer led by Mike Grocott, with UCL's Caudwell Xtreme Everest group
How lack of oxygen is a common cause of death in intensive care patients
The ethics challenges of low oxygen experimentation
12:20 Why Everest?
Climbing Mount Everest is a well-supported undertaking
Combining their medical career with their passion for mountaineering
The result: over 100 scientific papers published
13:20 The study's findings and the science of low oxygen levels
Humans can acclimate to oxygen levels on par with those of diving mammals, specifically the diving Weddell seal
The lowest recorded oxygen level is 1/3 of the level that causes death in IC patients
The role of mitochondria in our ability to acclimate
Our body's ability to rely more heavily if needed on low oxygen-tolerant cells
Comparisons with the human fetus, who is able to survive on the low oxygen levels in the mother's blood
"We are born with this ability"
15:58 Logistics of the climb
Delivering much of their equipment in advance, some of it by helicopter
The challenge of heavy, sensitive equipment
Creating custom equipment, tents and generators
The importance of Sherpa support and their unique acclimatization abilities
19:41 Preliminary physical training
Feeling like he had been practising since the age of 19
The importance of simply sitting in place, acclimatizing
The mental impact of just looking at the mountain
Mike Grocott's rule for the Everest climbers: having been above 8000 m
Their climbing leader: Dr. Dylan, the only one who had been above 8000 m
The 2 preliminary expeditions to Cho Oyu
Their goal: getting an arterial blood gas sample
The challenges: shrunken arteries because of the cold and preparing an operation area under difficult conditions and limited funding
24:37 Learnings from Cho Oyu
The effects of fatigue
Proving that obtaining a blood gas sample was possible under these conditions
26:42 Weight gain and weight loss
Why one loses so much weight and muscle mass when climbing
Attempting to gain weight in preparation. The key: late-night take-out
28:49 Choosing to ascend the South side
The multiple possible routes to Everest
The logistical ease of bringing equipment through Nepal
Building relationships with the companies on the South side
Their priorities: 1) Safety – 2) Science – 3) Summit
30:27 The challenges of the climb
Why the biggest challenge is the mental challenge
The difficulty of being away from family and children
The importance of having alone time in separate tents
How one discounts and rationalizes risk
What it means to minimize risk
35:27 Risk-taking in Roger's professional life
"I don't like doing risky things"
His job as an anaesthetist: making risky surgery less risky
An important skill: remaining calm when things go wrong
36:55 Medical responsibility
Committing to join any rescue taking place on the mountain
The trouble caused by logistical issues between different expeditions
40:42 The Sherpas
How the Sherpas were treated as members of team
Their importance and large number due to the amount of equipment needed
The hierarchical and familial nature of Sherpa work
The respect and financial rewards that come with being a Sherpa
Questions about the next generation of Sherpas
45:12 "Summit fever"
The effect of hypoxia on decision-making
Their decision beforehand of deferring decisions to those at base camp
Setting a hard turnaround time regardless of where they were
The impact of late summits on death rates
48:17 Unpredictable weather
Since climbing Everest is often only done once, the urge to summit can lead to bad decision-making
The 200 km/hr winds that make Everest unclimbable most of the year
The difficulties and crowded trails caused by this short climbing window
Their decision to hold back 3 days after the window of good weather opened
51:32 Rescues
Saving the life of a young Nepalese woman left for dead
The limits of their medical field equipment
58:45 Challenging areas
Khumbu Icefall: "It's like knowing someone wants to kill you, but you're not sure when they're going to pull the trigger or where they're going to come from"
Summit day: climbing in the dark, being far from help, and reaching the highest altitude of the whole trip
1:02:47 Summit day
Getting equipped with down suit, visor, oxygen mask
Walking alone, hearing just your own breathing
Breathing 8-10 breaths per step
1:05:47 Nourishment
How hard it is to eat, especially when not acclimatized
Another challenge of altitude: a pot of water taking an hour to boil
1:06:42 Acclimatization to altitude
Increased respiratory rate
How your brain adjusts to hyperventilation
Chronic altitude problems and the impact on internal organs
The highest stable human population: 4500m
1:09:20 Serious health risks
AMS (acute mountain sickness)
Pulmonary oedema
Cerebral oedema
Losing brain mass after a trip to Everest
The difficulty in predicting how well each person will acclimate
The best advice: "Climb high, sleep low" and ascend gradually
1:14:47 The effects of age
Why children perform worse at altitude and why young people acclimatize slower
Why older athletes are the most common climbers
1:16:00 Summit night
The fear of the returning jet stream
The feeling of familiarity at seeing the view from the summit
Feeling a sense of melancholy when reaching the summit after working so long and hard to reach it
The beautiful view and sunrise from the top
Feeling hypoxia-induced confusion
The phone call to Roger's wife from the summit
1:25:15 The descent
Battling horrendous wind
Feeling the effects of exhaustion
Understanding how a small deterioration in conditions can turn a good day lethal
1:27:17 Next time
Feeling lucky to have been in such a well-organized expedition with like-minded people
"You get what you pay for" – how to choose a commercial trip
1:28:42 The legacy of the climb
How it has defined and affected Roger's life
"It's a great thing to have done rather than be doing"
How preparing for the climb was hard on his family
1:30:12 How his family deals with risk
"It's almost like a way of life"
Taking his kids camping and climbing
1:31:57 Climbing with his wife Sarah
Their meeting in the Alps
Sarah joining their team of 3 to climb an unnamed peak in India
How they selected this particular unclimbed peak
The epic descent down an unfamiliar face of the mountain
Naming their new mountain: Draíocht Parbat