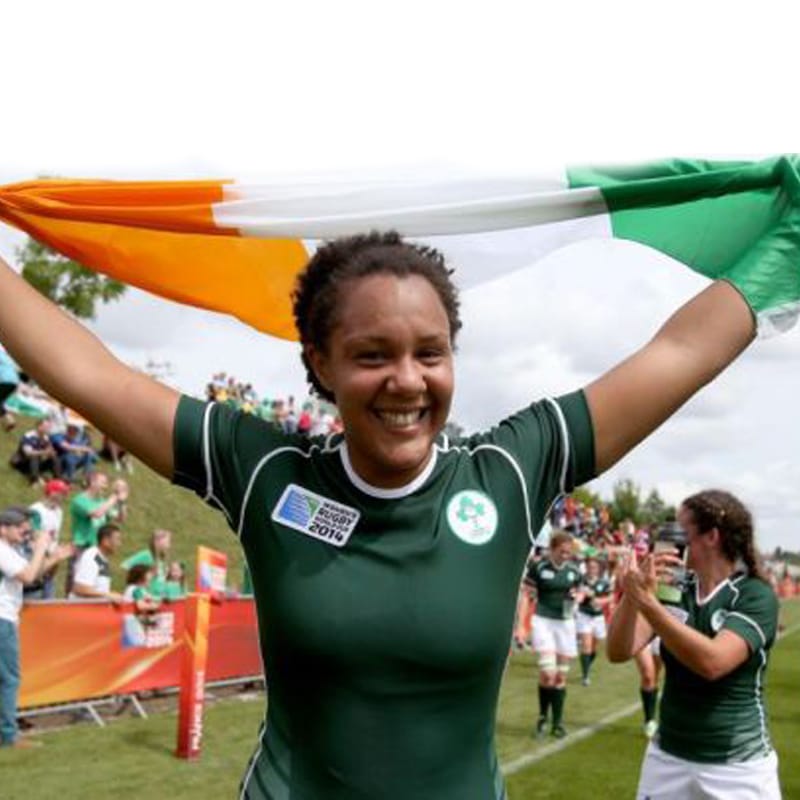 #7
Career highs and lows, the future of women's rugby and retirement
Sophie Spence
---
Sophie is a titan of Irish rugby, who recently hung up her boots in 2017. Since making her debut for Ireland back in 2012, Sophie's explosive carries, tireless tackling and strong presence in the second row helped drive Ireland towards an unprecedented era of success which culminated in a historic Grand Slam in 2013, a World Cup semi-final in 2014, a second Six Nations title in 2015 and beating the All Blacks in 2014. Sophie was also nominated for World Rugby Player of the Year in 2015.
Developing the Sport of rugby for young girls has always been a passion for Sophie. This passion leads her to become a socialpreneur, setting up Spence Rugby Academy camps across the country to give young girls the opportunity to learn and develop their skills in the sport whilst developing transferable life skills such as team work and leadership.
In this episode Sophie reflects on her early days in Newcastle, the highs and lows of her rugby career, her thoughts on retirement and the next phase of her career between Dublin and Gowerton, Wales.
Subscribe
Find the show on your favourite player
Summary
1:00 Introducing Sophie Spence and her major athletic accomplishments
1:45 Sophie's work in television
How it's scary but also a privilege
Flipping around her criticism of herself as a player
2:24 The Irish women's rugby team's current standing
Their hard match against Ireland
Their first-time narrow defeat to Italy
The potential effect of the weather, especially on the French team
Highlighting players Katy Daley-Mclean, Tamara Taylor, Georgina Roberts
4:40 The current state of the Irish squad
Being in a "building stage" and the challenges this brings
Dealing with changes after the 2017 World Cup: retired players, new players, new management
Why we should be focusing on developing new caps
5:40 The end of a historic era in women's rugby
The strength of the squad Sophie joined
A squad built by players who made sacrifices for the love of rugby
How rugby is more accessible now
7:00 Building a culture
Knowing each other as people, outside of the pitch
Competitiveness vs working together as a team
Sophie and her teammates' "Hot chocolate group"
The importance of down time
8:15 Sophie's entry into rugby
Her start in netball
Studying for a Masters in sports psychology
Falling in love with the culture and the ethos of rugby
9:40 Being discovered by Philip Doyle (Goose)
Going to an Exiles training session after an invitation by Juliet Shaw
Goose's advice: to work on her fitness level
Her subsequent invitation by Goose to training camp
12:30 Sophie's first steps in the rugby world
The lack of attention on women's rugby at the time
The challenge of being new to the sport and having a lot to learn
Being brought on quickly by the other players
14:20 Early influences and mentors
Fiona Coghlan
Joy Neville
Lynne Cantwell
Grace Davitt
14:52 Sophie's 2012 debut against Wales
The buildup before a national match
Ending the match early because of a frozen pitch
Taking the overnight train after an injury after her first cap in France
17:05 Playing for England or Ireland
England's potential interest in recruiting her
"I was completely clueless about teams"
Sophie's heart was in Ireland
"It was never a second option"
18:25 Success of 2013
Winning the 1st of 2 Grand Slams
Sophie's immediate integration into the squad
Being new to the sport and the culture and not fully understanding the consequences of the team's wins
The senior players of that year
19:35 1st Grand Slam win
1st women's international match on TV
The bad weather and bad conditions that day
How huge the fan support was
21:05 The difference between 15s and 7s
The different fitness level and skills required in 7s
The difference in game plans
22:35 Lead-up to the 2014 World Cup
Using Six Nations as a building platform
Their 8 weeks of training
Sophie's struggle with an injury
Their discipline, integrity and training all leading up to the World Cup
25:10 Ireland win against New Zealand
"Everything clicked"
Feeling like something was off with the New Zealand team
The impact of seeing Irish fan support
Everyone coming together
The role of confidence
27:35 Ali Miller's career post-injury
28:12 Losing to England
England had more players and more experience
The effect of the intensity of tournaments
The cumulative impact of several bad moves
29:40 Rugby in the media
The negative media coverage of rugby
Proving the media wrong by winning
The "bandwagon effect"
30:05 Changes in 2014-2015
The impact of several players leaving
The new energy and new ideas brought on by new players
Tom Tierney replacing Philip Doyle as coach
Why Sophie thought about leaving in 2015
Trying to keep a culture while the culture is trying to change
33:35 Personal nominations and wins
Nominated for World Player of the Year
Rugby Writers of Ireland Women's Player of the Year
Scrumqueens Player of the Year
RTÉ Sports Person of the Year
Why these nominations were embarrassing to her
"It's not a game for 1 it's a game for 15 + the squad"
36:05 Ireland hosting the World Cup
Partly wishing for a sunnier, more exotic location
How hosting was good for the game and good for female sport in Ireland
36:55 Sophie's 2016 concussion
Trying 3 times to go back
Needing to be out of the game for 4 months
The protocol and exercises required
The impact of not allowing herself to rest mentally
How being away from your team meant losing your main support network
The additional stress of moving twice within this period
40:15 Concussions in rugby
The high concussion rates
Learning safe tackles and equipping coaches to teach good techniques
"If you're not safe, you shouldn't be playing"
Taking responsibility for your own safety
The importance of not pressuring yourself to go back early
The pressure by some to limit or ban contact in training
Fatigue as a factor
42:44 Challenges in 2016-2017
The start of Six Nations
Missing the autumn internationals
Feeling unsure and lacking confidence
The importance of having teammates who push you forward
44:20 Psychological support
The lack of psychological support
Relying on teammates to serve that purpose
45:25 2017 World Cup loss
How things could have been done differently
The difference between 15s and 7s and the effect of players coming in without training
Having an unhappy squad that was unhappy with management
The demanding training regime and the impact of fatigue
On Ruth O'Reilley's interview with Gavin Cummiskey and speaking up against issues in rugby
48:45 Retirement in 2017
Not being chosen for the Six Nations
Watching her friends retire
Her disappointment in watching services like nutrition counselling get removed
Speaking up to management as a potential reason for not getting chosen
51:20 Adapting to post-athletic life
The difficult transition to regular life
Extra pressure of going from job to job
52:55 Skills retained from being an elite athlete
Resilience
Team management
Teamwork
Self-confidence
54:15 Advice to young female athletes
54:45 The legacy of Irish women's rugby
IRFU's new strategic plan
More minis programs, more young people playing
More structure
The problematic lack of downtime in amateur sports
Needing to support the transition from minis to seniors
59:15 7s vs 15s
How separate these programs really are
Not one big happy family
The differences in funding and support
1:00:35 Current state of the 15s
How they've suffered because of players coming in and out
The need for their culture to grow
1:02:10 Initiatives around women's rugby and women's sports
Independent Review Group
Women in Sport policy chaired by Lynn Cantwell
Important input by Fiona Coghlan and men's coach Tanya Ross
The many missed opportunities for women
1:04:02 Changes to be made in rugby
The need to change the amateur program into a semi-professional program to provide more structure and more time to build together
Needing more support to make rugby more accessible and to keep girls in the game
1:06:02 Future coaching or playing
Looking into coaching men
1:06:33 Opening a coffee shop in Wales
"Coffee culture" in Wales vs Ireland
Taking it one small step at a time