Synergy Over Solo: Navigating the Collaborative Future of Business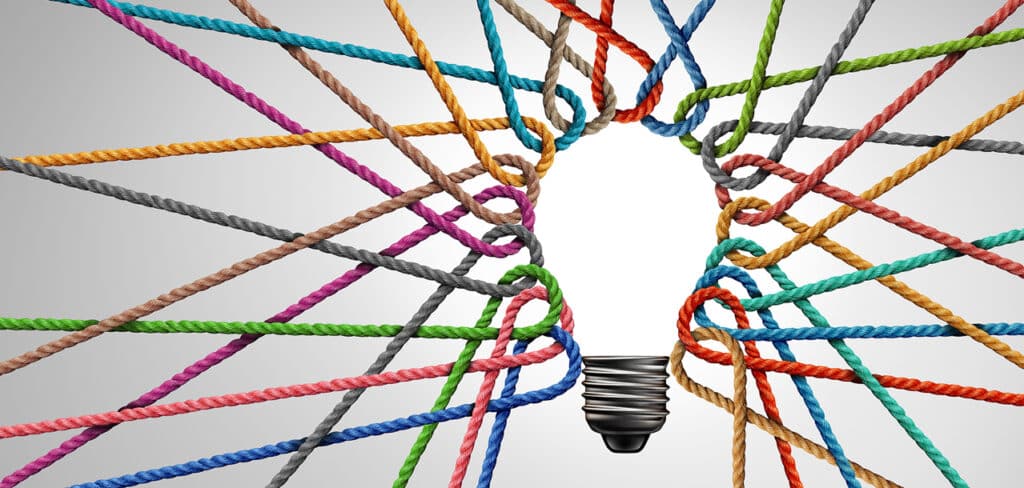 Global Overview: The Tapestry of Interconnectedness
As we progress into the 21st century, we're becoming more connected than ever, breaking down barriers between countries and industries. Our ability to adapt to digital changes and work together effectively shapes today's success. It's not just about your contacts but about how well you can network and team up with others.
Consider how digital advancements are transforming how we do business: Teams spread across the globe can work together seamlessly in real-time as though they were side by side, using platforms like Slack and Asana. With IoT technology, a farmer can enhance crop production by leveraging insights from data experts halfway around the world. What once seemed like scenarios from a sci-fi novel are now the foundations of today's business world.
Some events have sounded a loud signal for the need to be even more connected. The recent global pandemic stands out in this regard. Businesses quickly adjusted and turned obstacles into openings for growth through collaboration powered by digital tools. Firms that had previously laid out digital strategies with a timeline of years had to accelerate their plans, implementing them within weeks or even days.
Contemporary Business Landscape: Collaboration as the New Competition
Today's business scene puts a high value on cooperation, making it a driving force for innovation and growth. It's become evident that bringing together various resources, expertise, and abilities is far more effective than individual efforts. The advantage now is with those who establish strategic partnerships, from start-ups to large tech firms.
We're witnessing an increase in unlikely partnerships: auto manufacturers teaming up with software giants to pioneer self-driving cars and significant retailers working with tech start-ups to transform the shopping experience with AI. These partnerships are more than simple alliances; they represent a fusion of visions to create what they couldn't on their own.
Digital platforms are at the core of this new wave of cooperation. They enable and accelerate partnerships, creating spaces where creative concepts become reality. Consider Alibaba's rural Taobao initiative, which expands e-commerce to the farthest reaches, or GitHub, where developers pool their talents to build the latest software innovations. These platforms have grown beyond mere tools; they're thriving habitats that nourish the collaborative ethos of our era.
This move toward joint ventures reflects a broader trend: a preference for collective achievement over solo victories. As we weave more connections into the global business fabric, we find its true power comes not from competing entities but from the synergy of working together, crafting a robust, agile web of mutual progress.
Introduction to the Shift in Organisational Strategy
We are rewriting the playbook for corporate strategy. Competition used to define the business battleground, but now, collaboration is the leading narrative. Previously, businesses operated on a win-lose basis, gaining an edge only at another's expense, and they guarded their knowledge fiercely, only partnering up when necessary.
The script has flipped today, especially in the tech sector, which often signals new trends. Look at Apple and IBM, for instance. These giants, once stark contrasts in business ideology, have joined forces. Their collaboration has produced a series of business apps that combine IBM's analytical excellence with Apple's superior design and ease of use. This partnership has led to breakthroughs that would have been unimaginable for either company alone.
Types of Collaborative Relationships
Working with suppliers has become more integrated than ever. Take Toyota's strategy, for example, where suppliers contribute from the very beginning of designing a new car. This joint effort makes the production process more efficient and creates a culture of ongoing improvement and creativity, placing Toyota at the top regarding car reliability and effectiveness.
The idea of 'co-opetition,' where competitors work together, has evolved from a contradiction to a clever tactic. A case in point is the streaming industry, where rivals share the same cloud infrastructure to manage the vast amount of data and viewership they receive. This collaboration on the technical necessities allows them to concentrate on what differentiates them: their content and how users interact with their services.
User involvement is reshaping how businesses think about their products. LEGO's platform for user-created designs is a standout example of this. It invites the brand's fans to contribute their creations, allowing LEGO to actively engage with its community and draw from a fountain of innovation that continuously rejuvenates its product line with new and captivating designs.
Drivers of Collaboration
The drive for collaboration comes from several directions, but it essentially boils down to three powerful forces: technology, economic pressures, and societal shifts.
Technologically speaking, the advent of cloud computing has been a game-changer. Businesses can tap into enormous computing resources, allowing rapid scaling and innovation. This shift has democratised the business landscape, enabling small ventures to compete with and sometimes partner with larger corporations.
Economically, the imperative to remain competitive in a fast-paced market cannot be overstated. Working together has become appealing and essential in industries like biotech, where research and development costs are sky-high and risks loom large. As a result, we're seeing a surge in partnerships where companies share the challenges and rewards of innovation.
Social dynamics play a crucial role as well. Social media has empowered consumers to have a stronger voice than ever. They're no longer just the audience; they're active players. This has encouraged businesses to engage in more open conversations with their audience, inviting them to contribute to product development and marketing campaigns. This two-way approach enhances the customer experience and fosters more substantial brand commitment.
In navigating these waters, companies realise that collaboration isn't just a pathway to success—it's a vital strategy for growing, innovating, and thriving in a world that's becoming more interconnected by the day.
Benefits and Challenges of Collaboration
While full of potential, the terrain of collaboration is also dotted with obstacles. On the positive side, collaboration can spark a fusion of ideas that drives innovation forward. Look at the aerospace sector, for instance, where Boeing and Lockheed Martin set aside rivalry to form the United Launch Alliance, combining their knowledge to push the boundaries of space technology and exploration. Such alliances can lead to cost efficiencies, shared risks, and a boost in innovative pace.
However, collaboration comes with its own set of risks. Differences in goals, organisational culture, and disputes over intellectual property rights can sour what started as promising partnerships. The failed DaimlerChrysler merger is a stark reminder of what happens when high hopes meet harsh realities, highlighting the importance of clear communication, shared objectives, and cultural synergy.
The role of governance and management is critical in collaborative efforts. Influential leaders can steer through the complexities of joint endeavours, bringing together different partnership components under a unified purpose. Robust governance systems are essential, ensuring that while common aims drive the alliance, each participant's unique identities and ambitions are respected and preserved.
Conclusion: A New Ethos for Business
The move from competing to collaborating marks a profound shift in business philosophy, not merely a tactical switch. It's about understanding that real progress is made not by racing ahead solo but by advancing together in our hyper-connected world.
Visionaries in the field foresee when collaboration becomes the norm, not an outlier. In this future, companies clinging to their niches, protective of their turf, will be outstripped by those who extend a hand, forge connections, and form partnerships. It's an era that will prize collective success and innovation as the building blocks of advancement.
Looking forward, it's evident that the spirit of collaboration will define business operations and their broader purpose. We're approaching a time that holds out the hope of joint achievement and shared prosperity—a time when we all grow by supporting each other.
More on Teamwork
The Power of Team Clusters: A People-Centric Approach to Innovation