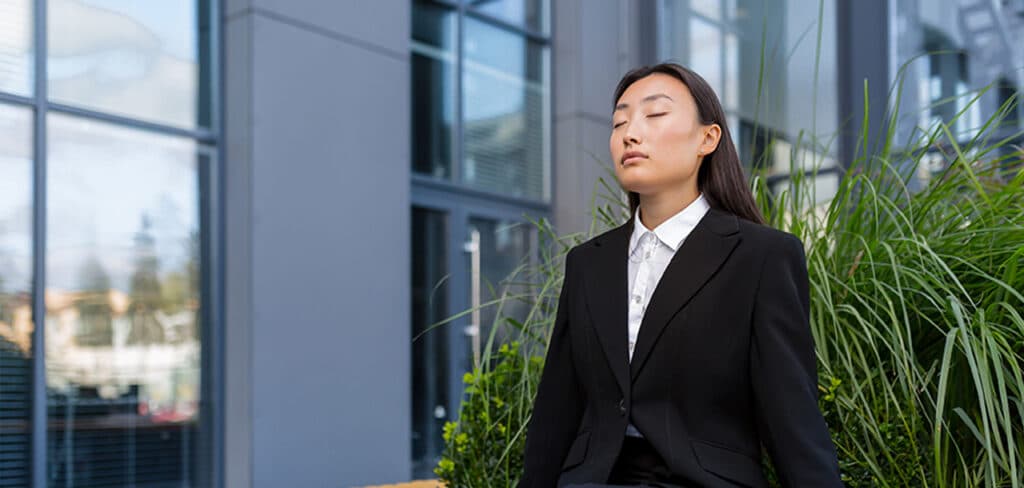 Leading by example is a long-standing trope. So far as it concerns setting the tone—it is the foundation for all that follows. However, one cannot expect to manage others effectively if they do not manage themselves well. That means being aware of your emotions and thoughts, processing and regulating them, and effectively dealing with high levels of sustained stress and its ripples.
Not a mantra but a mindset
Mindfulness, or being mindful, is an idea that many of us are familiar with. We hear it used in various contexts and situations, yet, for many, it is as ambiguous as ubiquitous. Although it is slightly more complex than it seems, once we grasp its underlying meaning, the rest quickly falls into place.
Both an act and state of being, mindfulness implies being aware of the present moment and, crucially, understanding its effects and impermanence. It is a concept that has been explored in Buddhist teachings for thousands of years but has reached a critical mass contemporarily because it is really about how we navigate our human experience. Here are some beginning parameters:
Mindfulness is not the same thing as meditation; instead, meditation is an exercise in mindfulness. One is a mindset the other is a formal practice. One cannot easily meditate during the day, especially at work, but one can be mindful anytime, anywhere.
It is less something for you to do and more a state of being that is best characterised by awareness and acceptance. The latter is not passive but a means of moving on to what comes next.
Regarding and building upon the last point, mindfulness is deriving positives from what is happening now or not allowing the negatives to alter the future detrimentally.
In the current era we live in—defined in part by its relentless pace, high visibility, technology-driven communication overreach, and burn-out-oriented lifestyles—mindfulness is a necessity. You may already be practising it without knowing that you are. If that is the case, expand from that base. What is more, the better you become at being mindful, the more likely you are to minimise stress and potentially gain some of these additional mental health benefits:
Externally, better emotional regulation and reactivity.
Internally, plugging deeper into somatic experiences (i.e., sensations and emotions).
Broader self-awareness and an attuned understanding of one's habits and patterns.
A reduction in mental fatigue, an increased capacity for focused decision-making and the power to contend with anxiety and doubt.
More clarity at points of physical fatigue.
Not surprisingly, mindfulness-based relaxation techniques also boost overall well-being. In this way, it is a foundation for everything that comes after. Moreover, its evident slant towards processing somatic experiences and managing a range of psychosocial dynamics promotes healthier relationships. Within leadership, your greatest skill is adroitly managing your charges. The second to that is managing yourself. Mindfulness holistically aids both.
It starts within
Self-management is the bedrock of employee management. It requires being and projecting calm, impulse control, applying short, medium, and long-term vision, making hard decisions at difficult moments, reading and responding to subtle or hidden cues, navigating factors outside of one's control, and overcoming consistent stress. Let us expand on the last since effective stress management buttresses the potentiality to execute most leadership tasks.
Stress is universal, but leaders contend with the highest levels of review and scrutiny because they are ultimately responsible. They face numerous and sometimes-unknowable problems. If the unexpected provides some mitigation for setbacks, it does not shield anyone from the fallouts of unmet objectives. There must always be answers or solutions. For this reason, leaders must be answerable to the present, future, and sometimes even the past. Eliminating stress is, therefore, not a reasonable goal when these are the stakes, and its triggers are particularly multi-layered for those making decisions. Rather than seek the impossible, or hide from the inevitable, stress management is then a twin pillar of performance and leadership.
Under the surface, the amygdala is the area of the brain that processes feelings and memories associated with anger and fear and governs strong or sudden emotions. Duly, it is responsible for the fight-or-flight response. When facing a perceived threat, the amygdala will send information to other parts of the brain to prepare the body to face the situation or flee. While its primary role may relate to survival, it is also essential to daily functioning. Without this, we risk amygdala hijacking, losing control, and generating overemotional or irrational responses to situations that should not elicit them.
Additionally, research indicates that the amygdala influences cognitive functions such as memory formation, decision-making, attention, and social behaviour. Studies suggest that intense or chronic stress is linked to unwanted neuronal activity in the amygdala (Correll et al., 2005). Tangentially, synaptic plasticity, which is the ability for synapses to strengthen or weaken, and is tied to learning, may be impacted by stress (Vouimba et al., 2004). If nothing else, these findings reflect that the brain's capability to respond optimally to anxiety or tense moments and carry out some basic cognitive tasks can be weakened by prolonged stress. One's overall psychiatric state can be eroded or made erratic (Radley et al., 2015). These streams of neural activity also steal resources from the prefrontal cortex, the part of the brain utilised for effective problem-solving. If stress is unavoidable and destructive, dealing with it, and being able to reset amid tremendous pressure, is of the utmost importance.
Training your mind and body
There is not a more competitive environment than the world of elite sports. Today's most successful teams hire specialists from inside and outside the game to maximise all aspects of performance. Routinely, mindfulness coaches work with athletes to overcome performance constraints like anxiety, doubt, distraction, and physical and mental fatigue. These problems extend beyond sports; we must also learn to push back these disruptive forces.
On an upcoming episode of the 1% podcast, we sat down with Christian Straka, a former professional tennis player who is now a mindfulness-based mental performance coach for Adidas running. He is a member of the International Mindfulness Teachers association and works closely with the Mindful Awareness Research Centre at the University of California Los Angeles. It is one of many. The fact that these types of organisations and institutions exist reiterates interest in and the value of mindfulness. Christian himself views mindfulness as 'the next great competitive edge.'
If athletes turn to mindfulness for marginal gains, you should too. So how do we train our minds to perform better in comparatively more mundane circumstances? Think of mindfulness as you would fitness. Develop a routine. There are health-based apps for yoga, relaxation and other related practices. For those starting from scratch, there are one-stop mindfulness apps offering everything from instruction, guided meditation, sleep schedules and data sets for mind-body health. Helpful as these are, mindfulness is about more than using technology. Eventually, it has to come from a deeper place. We must be the gadget, as Christian advises. Hence, the change must come from within. That means making mental health more of a priority.
Incorporating mindfulness practices is not always easy for those whose schedules are already overburdening, and we frequently assume we do not have time. That stance may seem practical and inconsequential, but it is an example of the mental training paradox, which has to do with rationalising a lack of personal investment in committing ourselves to mental health. We make excuses for not caring for our minds like we would our bodies. We should be wary of these thoughts. Even minor changes can spark significant transformation down the line. Forbes Health offers these tips for the workday:
Set reminders to be present – check in with yourself periodically; this allows you to reset and focus on the immediate.
Sense the bottoms of your feet – this promotes interoceptive awareness and deescalates your flight or flight mechanism.
Taking deep breaths – helps restore your parasympathetic nervous system, ushering in a calmer state by delivering oxygen to your brain, which helps you think clearly and make better decisions.
Focus on your heart – now shift attention to the area around your heart; use box breathing or take slow breaths until you feel at ease. This exercise cools the body's stress response.
Reframe your perspective – recognise stressful or unwanted thoughts and blunt their effect by relativising outcomes or situations
Be aware of your body – notice where you are physically expressing stress, tension or anxiety, then try to release it through progressive muscle relaxation by tightening different body areas and releasing them.
Push the pendulum the other way – acknowledge that some things may create unease inside you, but appreciate what is going right.
Replenishment, rest and recovery, reframing
Emotional intensity wears us down. Focus is lost more easily when fatigued. There is an obvious need to deal with stress when it surfaces, but what about after? How do we stop a cycle of mental and physical erosion, which feed off each other? The most important answer is allowing oneself means of replenishing and modes of relaxation during and after the workday.
Recovery does not pertain to the body alone. It is a means of dealing with and overcoming stress, and its role is paramount relative to performance. Rest matters. Simply put, we cannot reach our peak physical or mental performance levels—and sustain them—without establishing a consistent and healthy sleep routine. The same can be said for de-escalation and relaxation at home. Establish firm boundaries between your work life and personal life.
Reframe your relationship with stress. Many believe overcoming intense periods of pressure created a foundation for later success and shaped who they are. Surveys show that we associate these points in our professional lives with growth. We repackage it as fuel. The suffering is made to appear necessary. It is not. Just because stress is inevitable in the corporate world, we should not celebrate it. Mindfulness teaches us to work well through difficult moments, to minimise the damage, and give us a basis to recover after.
At points of acute stress, be aware that the current moment is temporary, and take concrete steps to reduce your anxiety and tension. This awareness separates the very best performers from everyone else. It is not entirely about skill or talent but about aptitude to deal with the moment.
Stress filters out
Workplaces are social ecosystems. That last word is intentional; it implies a purposeful balance. As discussed in a previous 1% Extra article, leadership, organisational structure, the material office environment, and opportunities for cooperation and promotion contribute toward cultures of meaning. Scientific research and analysis from the Harvard Business Review show that these factors also affect employees' well-being, happiness, sense of purpose, and performance. Stress, as an element, is a fifth column. It disrupts the balance in the workplace, impedes productivity, and creates low morale.
Thus, try to reduce the impact of the inevitable. Many companies offer training on how to mitigate stress, which sheds light on adverse health effects. Encourage others to take up these types of programmes if available, and implement them if they are not already. Mental health is not and should not feel like a stigma. Do not let people get stressed out about being stressed out.
Learn to recognise and eliminate stress factors in your control. You may be one of them. Through expectations and demands, managers can escalate a group's anxiety level. Actively support team members by displaying a level of investment in them. This small act shows that you are aware and supportive. As a leader, this is a skill you should have and rely on to inspire.
Conclusion
The corporate professional landscape often generates stress as a fait accompli. Therefore, navigating obstacles in one's mind matters as much as navigating everything else. Mindfulness, as a force encompassing reflection, perspective and responsiveness, is not a marginal gain. It is a must. Being mindful throughout the day supports mental and physical health and strengthens your outward demeanour and social relationships.
Use the numerous apps, therapies, activities, and meditative outlets available. Anything that works has merit, at least in the short term. However, by approaching feelings of anxiety, mental and physical exhaustion, or any other manifestation of stress through mindfulness, you may see more significant benefits in the long term. In this regard, it is wide-ranging and far-reaching. It is exponential, so add it to what is already benefitting you. During high-pressure situations, it offers a sense of calm. As concerning matters pile up in your inbox or fester in your head, it brings focus and positivity.
Incorporating mindfulness into your day can be simple, even during the busiest times. Engaging in a few brief positive exercises can have a lasting impact. Every hidden advantage counts even more as the stakes rise. You need to be at your peak when things are on the line. When that is impossible, you need to perform well through adversity. Remember, influential leaders do not ignore stress or suppress emotions; they contend with them like they would any problem or task. That means finding mindful solutions.
References
Achor, S. (2012, January 1). Positive Intelligence. Harvard Business Review. https://hbr.org/2012/01/positive-intelligence
Borst, H. (2021, November 16). How To Practice Mindfulness On The Go. Forbes Health. https://www.forbes.com/health/mind/how-to-practice-mindfulness-on-the-go/
Correll, C. M., Rosenkranz, J. A., & Grace, A. A. (2005). Chronic Cold Stress Alters Prefrontal Cortical Modulation of Amygdala Neuronal Activity in Rats. Biological Psychiatry, 58, 382–391. https://doi.org/10.1016/j.biopsych.2005.04.009
Dalton, S. (2022, December 16). Creating and fostering cultures of meaning. Steering Point Leadership Advisory Firm. https://steeringpoint.ie/insights/creating-and-fostering-cultures-of-meaning/
Frothingham, M. B. (n.d.). Fight, Flight, Freeze, or Fawn: How We Respond to Threats. Simply Psychology. Retrieved January 27, 2023, from https://www.simplypsychology.org/fight-flight-freeze-fawn.html
Guy-Evans, O. (n.d.-a). Amygdala Function and Location. Simply Psychology. https://www.simplypsychology.org/amygdala.html
Guy-Evans, O. (n.d.-b). Amygdala Hijack and the Fight or Flight Response. Psychology Today. https://www.simplypsychology.org/what-happens-during-an-amygdala-hijack.html
McDermott, N. (2022, August 12). What Is Mindfulness—And How Can I Incorporate It Into My Daily Routine? Forbes Health. https://www.forbes.com/health/mind/what-is-mindfulness/
Radley, J., Morilak, D., Viau, V., & Campeau, S. (2015). Chronic stress and brain plasticity: mechanisms underlying adaptive and maladaptive changes and implications for stress-related CNS disorders. Neuroscience and Biobehavioral Reviews, 58, 79–91. https://doi.org/10.1016/j.neubiorev.2015.06.018
Vouimba, R.-M., Yaniv, D., Diamond, D., & Richter-Levin, G. (2004). Effects of inescapable stress on LTP in the amygdala versus the dentate gyrus of freely behaving rats. The European Journal of Neuroscience, 19(7), 1887–1894. https://doi.org/10.1111/j.1460-9568.2004.03294.x