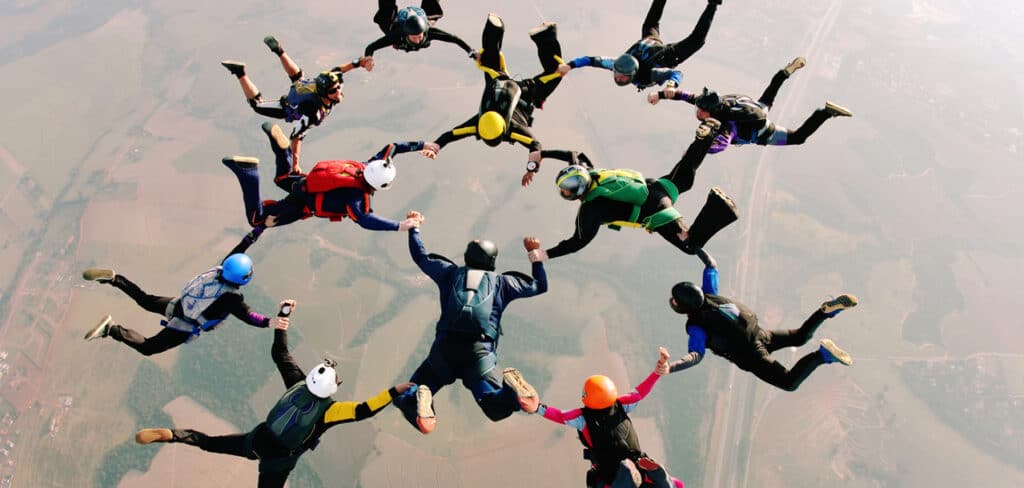 Introduction
Cohesion is pivotal to the success of any effective organisation. It is the means by which teams work in unison towards a shared objective, each member working closely with and bouncing off their colleagues to contribute to a larger goal.
Covid-19 impacted many aspects of work life, cohesion included. In some ways, by fast-tracking the shift to a hybrid working model, the pandemic enhanced our ability to engage with others easily, regardless of location, allowing us to leverage global insights that were previously unreachable. However, it also diminished our ability to build and develop the in-person connections that are so vital to forming an effective, synchronised team.
Type 'team cohesion' into Google and you'll get over 17 million search results, with everything from courses, books, talks, techniques and opinions freely available.
But while heaps of information on the subject are easily accessible, specific context and sequencing are required if we are to turn that mass of information into actualised, meaningful team growth. Here, we outline the five essential elements that make for better team cohesion.
1. A unifying vision
For an organisation to thrive, the company and its employees must be aligned. Recognising that each employee brings their own unique set of values, motivations, fears, expectations, and growth potential is key. The best organisations know how to integrate these individual values within a wider organisational purpose.
2. Intentional leadership
Leaders wield immense influence in setting the right tone amongst a team, one that can be easily bought into and upheld whether they're in the room or not. When that tone is right, mood and productivity go up. When it falters, productivity takes a hit. Leaders must embody their values and make them resonate amongst their staff to get everyone moving as a unit toward a single shared vision.
3. Management skills
Without fail, the best teams and organisations are led by figures who possess a distinct ability to empower others. Great managers recognise the untapped potential of those around them and know how to draw it out. They foster autonomy in their staff, hold themselves accountable, offer candid feedback and are open to receiving it as well.
4. Team dynamics
There are, of course, many challenges when it comes to maintaining team dynamics. Leaders need to be on the lookout not just for what their staff are telling them, but for non-verbal cues too – body language, facial reactions etc. It's not easy, especially as work environments become increasingly digitalised. Still, there are some steps leaders can take to ensure their work environment is functioning at its best, such as promoting:
Cognitive diversity: Fostering an inclusive environment that encourages a diverse blend of thoughts, experiences, and backgrounds to freely converge and collectively question the status quo.
Psychological safety: The degree to which one expresses oneself directly correlates to the level of psychological safety they feel. Building a level of trust (outward) and felt trust (inward) will allow employees to drop their guard and be themselves, resulting in their best work.
Friction: True innovation and learning are the product of differences. It's only in challenging ideas that we learn their strength. Be sure to promote a healthy amount of challenge within your team, though one that does not impinge on psychological safety.
5. Individual performance
A team is made up of individuals. As such, every individual's attitude and performance will in turn impact team cohesion. Further developing two aspects of individual performance can go a long way.
Mindset: Encourage individuals in your team to develop deliberate behaviours such as habit building. A routine habit improves short-term performance and creates a robust psychological framework from which to build sustainable long-term improvement.
Presence: Encourage employees to focus on the present. It's all too easy to get caught up in future aspirations and past successes or failures. Connecting to one's present surroundings allows for all sorts of previously impossible benefits. As well as benefiting staff experience and productivity, it allows for an openness that often proves fertile for coming up with innovative ideas.
Conclusion
Team cohesion is a fundamental driver of sustained, long-term success. Cohesion is a product of gradual development; building strong relationships requires a shared understanding that can only evolve from an environment that fosters mutual trust among team members. Understanding a colleague – their motivations, their life experience – and offering tailored support requires an investment that extends far beyond routine check-ins or daily project collaborations.
As we delve deeper into the 'Future of Work,' teams are in the process of establishing new behavioural norms and practices. Investing in and cultivating team cohesion instils confidence in organisations and generates substantial long-term returns on investment.
More on Teamwork
The Power of Team Clusters: A People-Centric Approach to Innovation
On the evening of Tuesday November 21st an exclusive gathering of business leaders came together in the elegant surroundings of 25 Fitzwilliam Place for a Leadership Masterclass with Steering Point Leadership and Talent Development Director, Jonny Cooper and Minister Paschal Donohue.

Steering Point Founder and Partner Shay Dalton opened the evening welcoming the Minister and thanking sponsors, TowerView for supporting the event.

During the conversation Minister Donohue related to Jonny Cooper how he manages the responsibilities associated with being Minister for Public Expenditure and Reform in Ireland, President of the Eurogroup and representative for Dublin Central constituency. A consistent presence of mind, clarity of thought and an ability to navigate complexity with his team all play crucial parts in the balancing of his demanding daily routine.

Minister Donohue emphasised the importance of staying laser-focused on the task at hand, even when attention is diverted. He also shared his approach to balancing home life with political responsibilities and the value of maintaining interests outside of work.

Finally, the Minister stressed the significance of having a mentor or trusted advisor, someone to consult with when making big decisions or identifying potential blind spots in a constantly evolving world.

"A memorable and interactive night in the company of distinguished and successful leaders at our Steering Point Leadership Dinner series." said Cooper "During his masterclass Minister Paschal Donohue was able to impart his depth of knowledge and experience in an intimate manner. From the positive feedback received so far it is evident that our clients and friends walked away with something very special."

Attendees spoke highly of the evening with one guest, Colm Woods MD of CW8 Communications commenting "Even with the terrific room full of business leaders, the standout for everyone was undoubtedly the candid and wide-ranging conversation between Jonny and Minister Donohoe. Humility, affability, integrity, honesty, dedication – all the qualities that one should aspire to in leadership, evident for all to see on both sides of the chat. A conversation that will stay with me for some time."
Gallery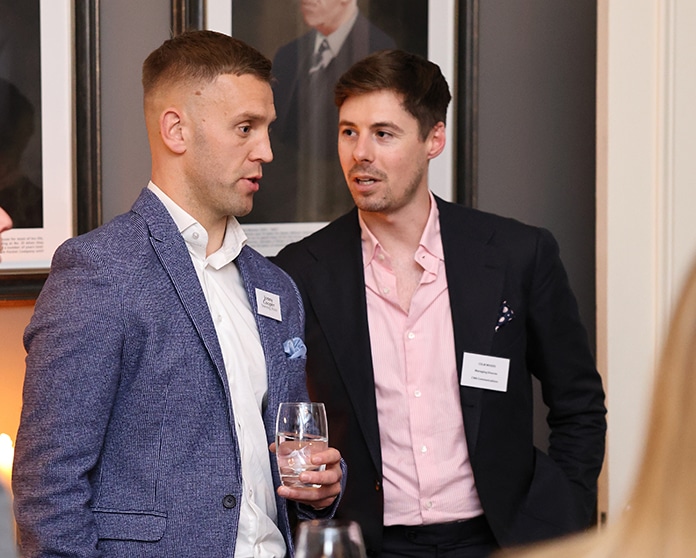 For media inquiries or to request high resolution photography from the evening contact Steering Point Group Head of Marketing Gail Finegan, gfinegan@steeringpoint.ie.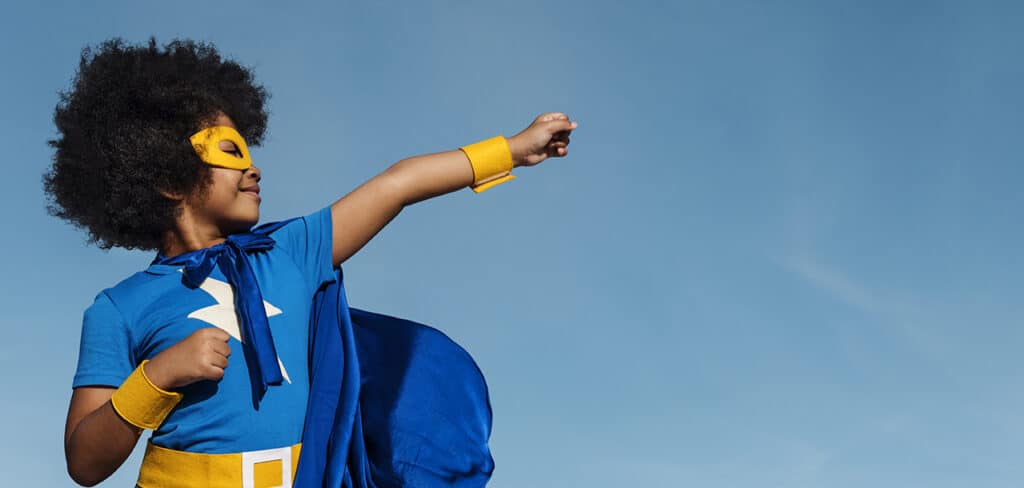 Introduction
At its core, performance relies on a combination of awareness, discipline, effort, and openness. Every day, billions of individuals engage in performance, whether it's in a professional context, in the realm of education, or in their personal lives with friends and family. However, not everyone exhibits the same level of engagement and effectiveness in their performance.
Individuals can be categorised into two groups: performers and high performers. Subtle but significant differences separate the two. Performers are characterised by their commitment, leadership ability, and mindfulness. High performers, meanwhile, possess a clearly defined purpose, a unique capacity for creation, and a deep sense of care.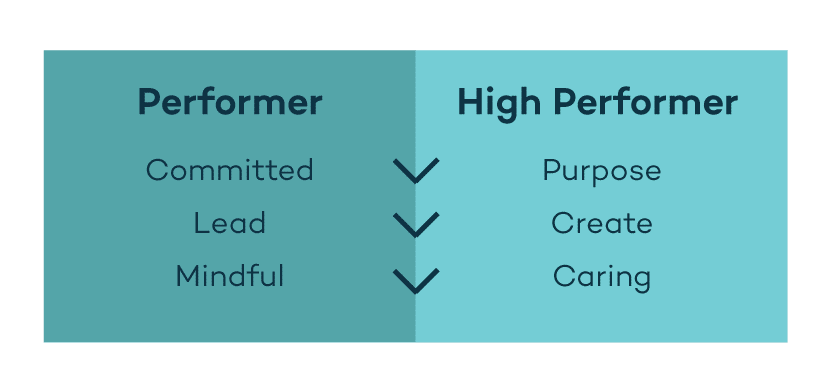 The high performer will always delve a layer deeper. They want meaning and understanding, something profound. While not everyone may want to be a high performer, those who do can benefit from some common insights and opportunities.
Common insights
Imagine a triangle, with its broad base representing character and competence. These feed into one's skill set, then build to a sharp apex at the top: execution. High performers approach each layer systematically and share some common insights: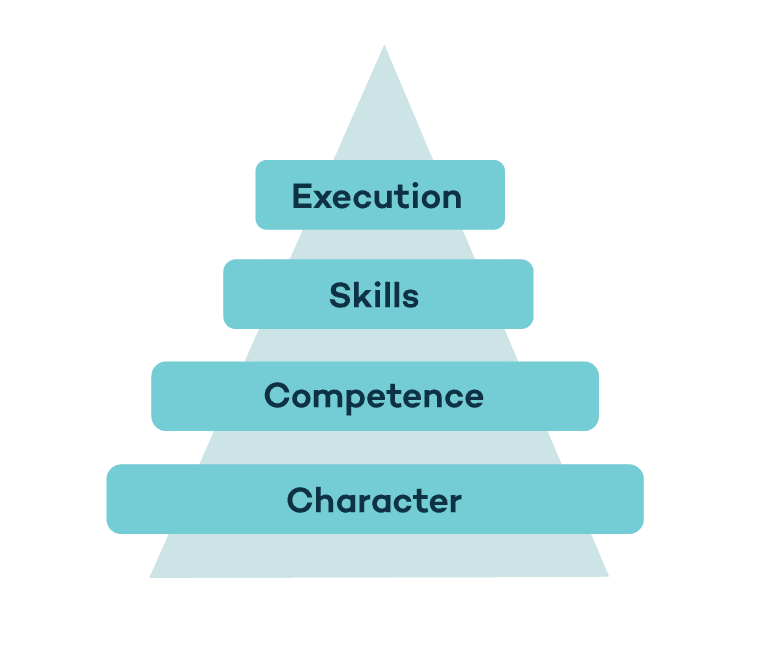 Execution – combined with experience, the accumulation of a high performers character, competence and skill level determines their ability to execute in a moment. They see execution as an opportunity to obtain feedback.
Skills – Often holding a position of a leadership or influence high performers are consistently scanning. They are proactive and eager to refine their current skillset and acquire new and more relevant skills.
Competence – High performers back themselves while striving to produce higher quality. A common trend evident is that they are relentlessly curious in search of new insights to develop their true competence.
Character – At the base there is daily significant growth potential. High performers consistently nurture this space, more often in the shadows. They know that their true quality is always left behind the room they leave.
Key opportunities

In today's dynamic performance landscape, three key development opportunities stand out:
Why, What and Who
Understanding why you do what you do, what you aim to achieve, and who can support you is crucial to maximising your potential. These questions serve as a compass for personal growth.
Cultivating Deeper Relationships and Fostering Trust
Research consistently highlights the centrality of trust in all social interactions. Trust enhances collaboration, encourages vulnerability, improves communication, and fuels idea generation. Deepening your relationships can have far-reaching personal and strategic benefits.
Objective Goal Measurement
Consider the difference between the 2D roadmaps of the past and the current 3D versions on your phone. Which of them offers greater clarity? Which helps you get where you're going faster? Clear, detailed goals enhance efficiency. They provide a roadmap that not only guides you but also identifies potential risks, opportunities, timelines, and obstacles to be aware of.
High performance is not always easy to define or achieve, but you know it when you see it. Those who do achieve it will always stand out.
More on Peak Performance
How to Achieve Peak Performance
Ready to take your next step toward peak performance? Get in touch: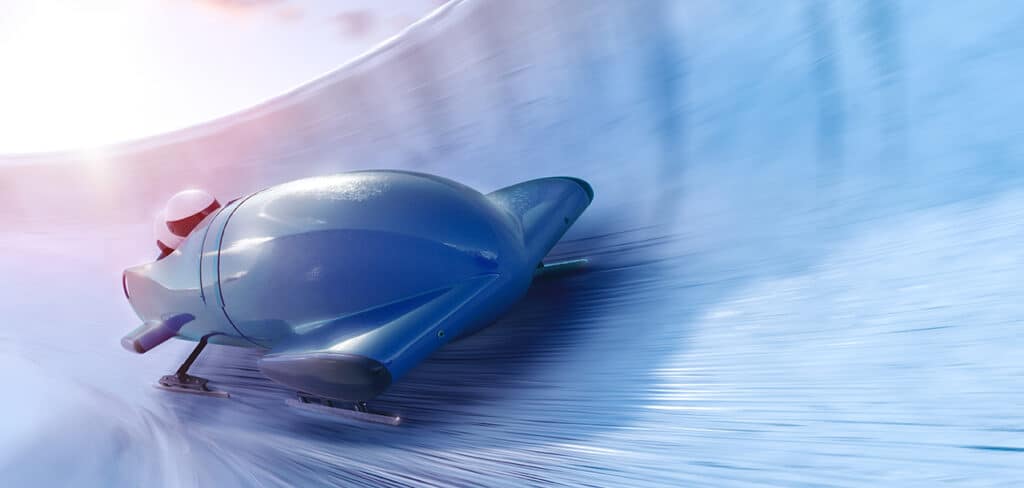 In order to thrive, workplaces need to build cohesive teams that are intrinsically motivated. In this insight piece we address ways of approaching, obtaining, optimising and sustaining performance.
Every working environment is made up of four core layers:
Organisation
Leadership
Team
Personal
Within those layers exist both complementary and competing factors that can contribute to organisational growth. Some of these factors are in our control and can be strengthened directly, such as maintaining an active, healthy team and prioritising people development. Others are outside our scope, such as employee disengagement born of a change in personal priorities.
Linking each layer is a daily demand. Organisational design, positive leadership intent, a disciplined feedback loop and dedicated culture of growth must work in tandem. Improving and aligning each layer is pivotal.

Every organisation needs to set out their strategic vision. Typically this outlines who the organisation is, what they stand for, their strengths, recent and notable successes, people development programmes and how to capitalise on future market opportunities.
Get right: Generate trust with a clear understanding of the journey ahead
Research shows that when it comes to maximising performance, trust is pivotal. An abundance of academic and anecdotal evidence points to trust's long-term strategic value. Benefits include increased collaboration, vulnerability, communication and idea generation.
Communicating a coherent strategic vision requires a thoughtful engagement plan. Some important points include:

An organisation's strategy should flow downward and outward. For a strategy to successfully capitalise on opportunities, the leadership team needs to be aligned.
Get right: Leaders and leadership teams need to work on themselves first

Leadership teams are too often misaligned, leading to a lack of conviction in critical areas such as providing direction, communication (verbal and non-verbal) and role modelling positive behaviours. Obtaining a high standard of performance relies on resolute leadership alignment.
A coherent strategic vision and aligned leadership group is a positive start. However, if mishandled, competing projects, team dynamics and internal politics can quickly hamper an organisation's growth.
Get right: Ensure your teams provide consistent space for professionals to grow

Teams can better optimise their potential through an embedded performance professional (internal or external). Their fundamental role is to work with a team to provide objective feedback and help cultivate or better maintain high performance behaviours, all while keeping an eye on the wider professional context and the organisation's long-term aims.
Everyone has the potential to be a high performer. The necessary skills can be practised and honed. Curiosity to learn, a strong work ethic and leadership skills (such as a commitment to bettering others as well as oneself) are all indications of an individual primed for long-term sustainable performance.
Get right: Provide your people with the support to truly grow

Many traditional 'off the shelf' options are available for employees. Research suggests that organisations should actively focus on bespoke people development areas such as performance coaching. Shifting from a learning and development platform to a learning development experience is paramount to sustainable performance.
Interested in a further conversation about personal, team or leadership performance?